Family, friends plan concert, ride to keep alive man's legacy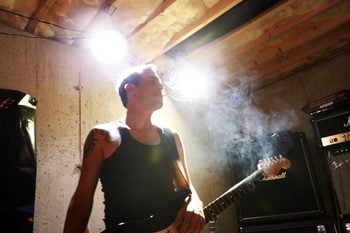 NASHUA – Sometimes fate acts in ways people will never understand.
During the time in his life when he is supposed to be entering his prime, Michael Donaghy tragically left it, dying of a heart attack at 34.
But his family and friends are determined to keep his legacy living on by putting together the first Michael P. Donaghy Rock and Ride Your Heart Out benefit.
The event will be at Greeley Park in Nashua on Aug. 1 and features a free concert by the Jack Duncan Band. All of the proceeds from the event benefit the American Heart Association.
"It is a life-changing event to have a 34-year-old man pass away," said Tim Donaghy, Michael's brother and the lead guitarist of JDB. "The cause has become more global for us as a band. We created the Rock and Ride Your Heart Out as a benefit to get the word out there and help the American Heart Association."
Besides the concert, the event also features a memorial motorcycle ride. Michael Donaghy was an avid rider, and family and friends believed that a remembrance of him would be incomplete without one. The ride is from 1-3:30 p.m.
"After my brother passed, we talked about a simple motorcycle ride that my brother typically rode," said Tim Donaghy, of Nashua. "It was just another portion of what made my brother who he was."
After the completion of the ride, JDB will perform.
"It's enjoyable and gives you a good feeling," said Mark Harris, the drummer for JDB. "The crowds are usually a bit better because they know that you are doing it for charity."
Unlike a typical concert where the headline band plays for about an hour and a half, JDB plans to play for nearly four hours, from 4-8:30 p.m., taking only a couple of 15-minute breaks from the 60-foot Greeley Park stage.
"By the end of the night, we are definitely tired," said Jack Duncan, the bassist for the band. "But you have all of this adrenaline going, and if you are having fun and doing what you love to do, three to four hours is nothing."
The band plays a variety of different music, including hard rock, classic rock, blues and others. They plan on playing numerous popular covers throughout the show including "Last Resort" by Papa Roach, "American Woman" by Lenny Kravitz, and "I Wanna Be Sedated" by The Ramones. They also play full Led Zeppelin and Stevie Ray Vaughn sets.
"If they are going to appreciate us enough to come and see us, then we are going to appreciate them enough to give them a good show," said Harris, of Haverhill, Mass.
In a fitting tribute to their fallen friend, the band plans to unveil two new songs, including one inspired by Donaghy's memory.
"It really is an up close and personal event for the Jack Duncan Band," Tim Donaghy said.
The band hopes that through its music it can generate more friends to attend and create more donations.
"We practice for ourselves because we really like to play," said Gregg Muldoon, the rhythm guitarist. "But seeing other people come out and listen to our music is always a good thing. The more people there, the more money we can make for charity."
Donaghy isn't the only member of JDB to be directly affected by heart disease. Duncan had a heart attack 10 years ago.
"It is kind of a privilege and an honor to be there," Duncan said. "His brother was a great kid, and now he's gone. I had a second chance, and now I am just trying to make the most of it. If we can make the money to help out someone else, then this event is great."
And through everything Duncan has had to go through with his heart attack, no one is happier to see him on stage performing than his daughter.
"My father has been in a band since we were babies," said Darlene Perez, Duncan's daughter who sings back-up vocals for the band. "For him to have to wait this long for it to have it finally all come together is just his dream."
The event will also feature multiple raffle items, donated items from local businesses and sponsors, and there will be vendors on hand selling popcorn, hot dogs, fried dough and other food items.
The American Heart Association will also be on hand presenting people with fliers about proper heart care, and at the end of the show, the band will present a representative from the charity the funds raised during the event.
"We hope that a lot of people come out and bring their pocketbooks and wallets with them," Harris said.
To make a donation or for more information on the event, visit www.rryho.com