Family felt powerless in fight with landlord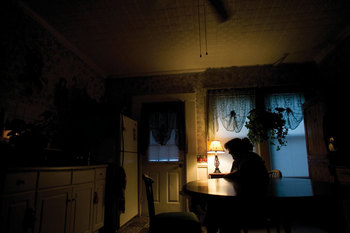 It started with carbon monoxide poisoning and ended with eviction.
"Throughout the entire process, I felt like I had no rights," Laurie Christian said of the drawn-out legal battle she and her mother, Marie, had with landlord Joseph Bianchini.
"I felt like the laws were there; they just weren't being enforced," Christian said, expressing the sentiment of some city tenants who believe that landlords have the upper hand when it comes to landlord-tenant issues in the city.
The Christians – Marie, 76, and Laurie, 42 – lived at the three-bedroom duplex apartment at 2 Shedds Ave. for 20 years when bad relations with Bianchini ultimately forced them to find another place to live.
They were among few tenants who were willing to tell their story of dealing with a bad situation with a city landlord.
The first 10 years they lived at the apartment under a previous owner were fine, the women said, and even after Bianchini bought the property in 1995, things weren't so bad.But the last five years went over the limit, according to the women.
Bianchini was an absentee landlord who failed to keep up the building, they said. When he did fix things, he failed to do it correctly, leading to a number of serious problems in the apartment, they claimed.
Before August 2005, when Bianchini told them he was raising their monthly rent from $630 to $700, Marie Christian had already been poisoned with carbon monoxide from a broken stove and experienced a frightening roof collapse, the mother and daughter said.
The women claimed they lived with the broken roof for six months when unlicensed workers Bianchini hired knocked the asbestos siding off the structure, filling their home with the hazardous dust that left everyone, including the family cat, struggling to breathe.
More on this topic
"And that was when I was like, 'You know what? I can't stand this guy,' " Marie Christian said.
'A simple man'
The Telegraph's attempts to speak with Bianchini were fruitless. In court documents, Bianchini listed his address as 25 Yale St., Nutting Lake, Mass.
An Internet search for that address listed Bianchini Masonry Construction Co. A man who answered that number identified himself as Bianchini's brother and said Bianchini was "a simple man" who didn't own a phone, television or radio. Bianchini used his girlfriend's phone to call out after 9 p.m. but couldn't receive calls at that number, the man said.
Bianchini did call The Telegraph once and left a message but didn't leave a number to call him back.
Getting in touch with Bianchini during emergencies was just one of the problems the Christians had after he took over the building.
>> Did you know?
After the carbon monoxide issue at the property in February 2000, code officials cited Bianchini for not having an emergency number on file with the department, a requirement for landlords by law.
Bianchini showed a pattern of not following laws pertaining to property owners, which was the main factor that finally led them all to district court in late 2005, according to the Christians.
Instead of being apologetic, Bianchini, the women said, had it out for them for the trouble they caused by reporting the carbon monoxide incident to health officials, and especially for reporting the asbestos incident.
Laurie Christian was at work when the asbestos episode happened on April 26, 2002, but rushed home when her mother called to say she was choking.
Christian said she arrived home to find the building surrounded with nails and broken pieces of asbestos siding. Inside the home, she found her mother coughing and gagging among their belongings that were covered in dust.
"I couldn't touch anything because everything was covered in this white crappy stuff," Christian said.
"I could hear my cat wheezing, and I was thinking, 'Oh, great, I had my windows open.' No warning, no nothing. They just did it."
City environmental health inspector Heidi Peek and officials with the state Department of Environmental Services ultimately responded to Christian's complaint by ordering the crew to stop the work immediately.
Bianchini was then required to hire a professional asbestos abatement crew to clean up the mess.
"It was embarrassingly funny because there were men in white suits all around the house that was roped off," Christian said.
The cleanup Christian and her mother were required to do inside their home was hardly amusing, however. The residue had to be washed off everything, Christian said, explaining that Peek directed them not to use a vacuum or broom, which could stir up the dust.
"We washed every single rug, every piece of clothing, curtains," Laurie Christian said, adding that they were still finding the dust years later.
Legal conflict
About four months after the asbestos incident, Bianchini notified the women that their rent was increasing, Laurie Christian said.
>> NASHUA MINIMUM HOUSING STANDARDS
The verbal notice came about a week prior to when rent was due for August, she said, adding that she told Bianchini right away that he had to make repairs in their apartment before she would pay the increase. The issues, about which the women said they had been complaining for months, included an improperly functioning furnace and stove, as well as three broken and badly fitting windows.
When she attempted to pay Bianchini in person a week later, Christian said Bianchini angrily refused her $630 check and told her that he was going to evict her for nonpayment of rent. Christian then mailed the check and the list of complaints to Bianchini through certified mail.
The dispute set off a chain of events that included Christian filing a stalking petition against Bianchini in district court, as well as harassment claims under the state's landlord-tenant law, RSA 540-A.
Laurie Christian said Bianchini had harassed and stalked her in the three days following her attempt to pay rent and that he had verbally abused her mother on many occasions.
"I was worried about her because she is an elderly woman," Christian said.
"I would come home, and her face would be all red and I would say, 'Was the landlord just here?' He knew how to push her buttons."
The court issued a temporary restraining order against Bianchini, ordering him to stay away from the women pending a hearing on the matter.
Five days after Christian filed those claims in district court, Bianchini served Christian an eviction notice, known then as a "notice to quit," claiming "other good cause" as the reason for the eviction.
On the notice, Bianchini stated that the women had denied him access to the premises and that their "threats, comments and overt acts" had affected his ability to conduct business with other tenants of the duplex.
The eviction notice also stated that a demand for rent had been served, as well; however, the women said they were never served a demand for rent. No such demand was ever filed at the court.
Since Bianchini cashed their rent check for $630 on the same day he served them the eviction notice, the only possible demand could have been for the $70 increase, they said.
After getting the notice, Marie Christian, who had never been through an eviction before, spoke with an attorney to find out what her rights were as a tenant.
The attorney informed Christian that Bianchini's rent increase was illegal if he hadn't given her 30 days' notice. The attorney also directed her to the state law regarding landlord retaliation.
The law, RSA 540:13-a, states that a landlord can't evict a tenant who isn't behind in rent if the tenant has either reported a housing code violation in good faith or has filed a petition in good faith under RSA 540-A, both of which Christian had already done.
Additionally, the attorney advised Christian of RSA 540:13-b, which states that the court will presume retaliation if a landlord files an eviction action within a six-month period of a tenant taking such actions, as Bianchini had just done.
The next month, determined to fight for the repairs and believing they could make their case in court if they had to, the women put their rent aside in a separate account to prove they weren't refusing to pay Bianchini for financial reasons, but because his building didn't meet minimum housing standards.
Then their case began to fall apart.
First, after a Sept. 9 hearing, a judge ruled that the women hadn't provided enough evidence to prove that Bianchini had harassed or stalked them.
Second, Christian said she couldn't seem to get a city code officer to respond to her home for an inspection.
Christian spoke with code officer Tom Malley in person Aug. 8, the same day she and her mother filed the stalking and 540-A:4 petition against Bianchini, she said.
She said she gave Malley a copy of the letter she wrote to Bianchini, satisfying the code department's policy that tenants notify their landlord of issues in writing first.
The letter lists Malley as a recipient, but isn't dated and doesn't advise the landlord to fix the issues within two weeks, as required by law.
And after her meeting with Malley, an inspection was never scheduled, Christian said, adding that she made repeated calls to the department requesting an inspection.
On Oct. 3, Bianchini served Christian another eviction notice and a demand for $1,260, the amount of rent for September and October, notably without the increase included.
After speaking with a lawyer, Christian then called code enforcement supervisor Laura Games on Oct. 12 and once again asked for an inspection.
Malley came out within an hour of the call and conducted an inspection that resulted in 11 housing code violations at the property and included this abatement note: "Repair or replace the combination heating/stove appliance that has been red tagged by the gas company since Aug. 22, 2005 as 'Do not operate.' "
The apartment had no heating facilities at the time of the inspection, Malley wrote, noting the outside temperature was 57 degrees on that day.
Malley also ordered Bianchini to fix the windows and repair the chimney, which had been stuffed with insulation. He also cited Bianchini for installing a water heater without a permit.
The next day, Bianchini arrived at the Christians' apartment with an appliance repairman he had hired to fix the stove and heating unit.
Christian's other daughter, Susan Poliquin, was at the home with her mother at the time, and in a letter later filed in the case, described how Bianchini stood in the kitchen and complained about the money Christian was costing him.
"After a minute or two of silence, he stated to Mrs. Christian, very sarcastically, that she was a 'very sweet woman,' " Poliquin wrote.
"That is when I got out of the chair, stood between Joseph Bianchini and Mrs. Christian and told him to leave the premises," she wrote, adding that she told Bianchini that he could not be inside the apartment unless somebody else was there with her mother.
Bianchini obtained a landlord/tenant writ from the court that ordered the Christians to either file for an appearance at the court within 10 days or be evicted.
A few days later, Malley came to the home to deliver a copy of the violations he had issued Bianchini. Marie Christian said Malley advised her to try to work out her differences with Bianchini and not to go to court because she would lose and be evicted.
"He asked me if I ever heard of a landlord being arrested," Christian wrote. "When I said 'no,' he nodded his head yes."
Unfixed problems
The Christians retained city attorney Trisha Hayes, who filed an appearance with a counterclaim, stating that the habitability of the apartment was materially affected.
"She wanted me to go for the $1,000 a day for every day that the gas was off," Laurie Christian said.
Although Christian stood to win $51,000 on that violation alone, Christian said she didn't ask for any damages in the case other than a court order that would make Bianchini repair the building and stop harassing her and her mother.
"I wasn't out for vengeance," Christian explained.
"Just leave me alone. To me, there should be a law like that. If a landlord is going to harass their tenants and not take care of a building, it is obvious they are a slumlord."
Finally, on Nov. 1, attorneys for both parties met at district court for a hearing on the merits of the case. Attorneys hammered out an agreement that required Bianchini to make the repairs within two weeks and the Christians to pay Bianchini $1,000 for rent from September through Dec. 31 upon completion of the repairs.
The agreement also required the Christians to move out by Dec. 31.
"I felt like a nobody," Laurie Christian said of her experience at the court.
"Just because I don't own a property or anything, I am going to lose. They can do to you what they want and treat you however. You don't own anything, so you are nobody."
The court case was continued to Jan. 24, but there was no sense in attending that hearing, they said, since they were required to move.
The Christians ultimately moved out on Dec. 1, 2005, one day after a fire in their neighbor's unit left the entire building without electricity.
"The stress was enormous. We didn't have anywhere to live," Laurie Christian said.
Eventually, the women found another place, and although they didn't want to publish where they're living now, both said they're happy with their new apartment and landlord.
The only reason they came forward with their story, they said, is to bring attention to a city government and court system they believe sided with the interests of a property owner over the tenants' right to peaceful living.
"I know I am not the only case out there like this, and I know they probably all feel the same way, like it's a lose-lose situation," Laurie Christian said of other tenants before stating her main point:
"It is home. No matter where you live, you make it home."