Family dog dies, no one else hurt in house fire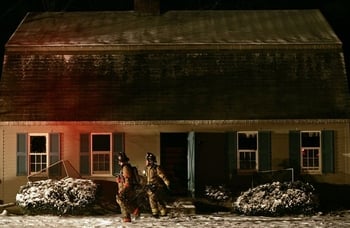 AMHERST – Dan Gillis and his family had only been back in their Oak Hill Drive home for a few days when disaster struck again, this time one of a more personal sort.
Gillis spent Wednesday evening shivering outside his 14 Oak Hill Drive home among the fire engines and tankers lining the horseshoe-shaped road off Dodge Road. Meanwhile Amherst, Mont Vernon, Milford and Merrimack firefighters traipsed in and out of the house after battling a two-alarm basement fire.
Gillis, his wife Zoe and three kids got power back Sunday night after having spent the better part of three days staying with friends.
Since then, Gillis said, they've had small power surges and dimming lights when they turn on appliances.
Around 8:30 p.m., Gillis turned on the microwave and the lights dimmed. He turned off the microwave, but the lights didn't get brighter, and then the power went out. He went to check out the basement and saw that there was a fire in a closet there, he said.
The first firefighters arrived just before 9 p.m. and found smoke coming from the building and heavy smoke and heat on the first floor, according to Amherst Fire Chief Rick Todd.
One crew fought the fire from the first floor while a second crew entered the basement through a bulkhead in the rear of the building, he said.
There was heavy fire damage to the basement, Todd said, and significant smoke and heat damage on the first floor. Although the house isn't habitable, it could have been a lot worse, he said, if firefighters hadn't been able to stop the flames from spreading up the stairs from the basement.
It was "a very good stop," he said. "We would have lost the house."
The fire went to a second alarm around 9:10 p.m. and was under control around 9:50 p.m., he said.
Gillis was home with his wife and two of his kids, ages 15 and 10. No one was injured, but one of the family's dogs, a Weimaraner named Fiona, died in the blaze, Gillis said.
Gillis, a golf pro who has lived in Amherst for about six years, said finding a place to stay won't be a problem.
"It's a nice neighborhood," he said, "so we've only had 10 or 12 invitations to stay."