Falling dollar fuels growth in manufactured exports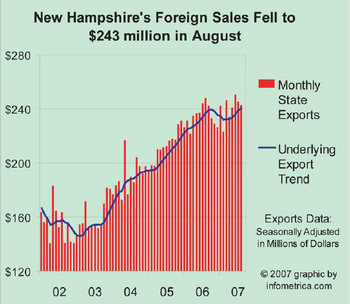 Technological advancements in manufactures and rising incomes overseas are important contributors to the international demand for state exports. This time around, however, the impact of a weak dollar is the key driving force in the strong demand for exports.
Since November 2005, the euro has jumped 18 percent against the dollar, meaning that businesses and consumers from the euro area — Germany, France, Italy, Spain, the Netherlands, Austria, Belgium, Luxemburg, Ireland, Finland, Greece, Portugal and Slovenia — now pay 18 percent less than two years ago to buy American goods, even if their prices have stayed the same.
Similarly, the Canadian dollar and the British pound gained 13 and 16 percent, respectively, against the dollar in the last two years. Hence, buyers from these two important foreign markets for New Hampshire's exporting companies find prices of American goods to have substantially declined.
With the dollar falling, goods made in New Hampshire cost less and thus become more affordable and more attractive overseas. As a result, foreign demand for domestic goods increases, leading to higher company sales and more profits as well as to additional local jobs tied to exports.
Manufactured goods accounted for 85 percent of all state exports in August. Exports from state factories increased in August by 2.2 percent from the previous month to $206.1 million, adjusted for seasonal variation.
August's foreign shipments from state manufacturers were $5.6 million, or 2.8 percent, higher than in August of 2006.
Exports of volatile non-manufactured goods went down 16.3 percent in August to $36.7 million, seasonally adjusted. This group of shipments abroad consists of agricultural goods, mining products, and re-exports which are foreign goods that entered the state as imports and are exported in substantially the same condition as when imported.
The overall picture in international trade accounts brought New Hampshire's foreign sales in August to $242.8 million, seasonally adjusted, which is $2.7 million, or 1.1 percent, less than in July.
For the country as a whole, U.S. exports increased 0.4 percent in August to an all-time high of $99 billion, from $98.6 billion in July, led by record levels in sales of consumer goods, industrial supplies and foods, feeds and beverages.
New Hampshire ranked 42nd in export growth among the 50 states during the first eight months of this year. Compared to the same period in 2006, foreign sales from New Hampshire's companies, seasonally adjusted, increased by an annual rate of 2.4 percent. National exports rose 11.7 percent during the same period.
According to a recent survey conducted by the Institute of Supply Management, the nation's supply executives of manufacturing companies continue to be optimistic about the prospects of growing foreign sales. The Tempe, Ariz.-based institute reported that its export orders index continued to show growth in new export orders in September for the 58th consecutive month.
September's reading of the export leading index suggests that although new orders received from abroad increased, momentum is slightly lower than in August. From the pool of respondents of the largest U.S. manufacturing corporations that sell their products abroad, 24 percent reported greater export orders, 54 percent reported no change in export orders from August's levels and only 22 percent reported smaller export orders.
September's foreign orders were dominated by increases in food, beverage and tobacco, nonmetallic minerals, machinery, furniture and fabricated metals, electrical equipment, computers and electronics.
Evangelos Simos, chief economist of the consulting and research firm Infometrica Inc., is editor for International Affairs for the Journal of Business Forecasting, and professor/department chair at the University of New Hampshire's Whittemore School of Business & Economics. He may be reached at eosimos@infometrica.com.