FairPoint: We're working on issues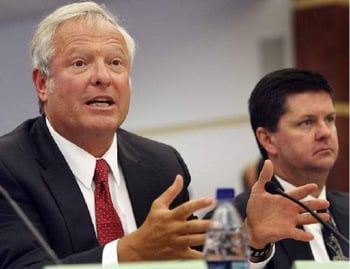 FairPoint Communications will take two months to develop a clear plan to solve the sweeping customer issues that are helping drag the company down, even as it works to convince debt-holders to accept new terms in an attempt to avoid Chapter 11 bankruptcy in October.
That news came Sept. 9 during an unusual four-hour joint hearing in Derry that saw regulators from New Hampshire, Vermont and Maine express disappointment about FairPoint's inability to solve myriad problems since it bought Verizon's land lines this year.
Among the information presented, company officials said FairPoint would not meet the Oct. 1 deadline for making broadband Internet available to 75 percent of its New Hampshire customers.
On a positive note, however, officials said the company remains on schedule to upgrade its core network to "next generation" systems, based on Internet protocols instead of traditional telephone switches, which should allow much faster DSL broadband service over phone lines, perhaps as early as this winter. It also said the high-speed fiber-optic FAST service, formerly Verizon's FiOS, was expanding slightly throughout southern New Hampshire, moving into new subdivisions and "filling in" neighborhoods where it already exists.
In general, the tone voiced by the three members of the New Hampshire Public Utilities Commission and their counterparts in Maine and Vermont might be described as cautious pessimism — hope that things will finally get better but fear that they won't, particularly when FairPoint executives declined to give first deadlines for improvement.
"One of the reasons we're here today is, frankly, frustration," said James Volz, chairman of the Vermont Public Service Board. He pointed out that FairPoint once predicted service problems would be mostly solved by June: "That day has long since passed, and we've seen neither sufficient progress nor a firm commitment that will achieve an acceptable level of service."
"We are quite a ways off from where the public wants you to be, we want you to be and you want to be," said New Hampshire PUC member Clifton Below, noting that the large number of reported billing, service and repair problems had been declining in early summer but had "plateaued" since then.
Financial woes
The Charlotte, N.C.-based FairPoint Communications owns rural phone systems in 18 states, but the lines it purchased from Verizon in northern New England make up four-fifths of its business. When the $2.4 billion sale was approved last year by the three states, it drew concern from those who feared that FairPoint was taking on too much debt and too big a transition.
Events since then — widespread e-mail problems in February and March, and continuing region-wide service problems such as bills issued after service was canceled and months-long waits to get new phone lines — have not allayed those fears.
The day's main job for David Hauser, who was appointed CEO in June, was to assure regulators that FairPoint is making the changes needed to fix a rocky situation. The company's operations have had so many problems that the current situation, in which 22 percent of customer orders in the system are late, is considered an improvement.
Hauser talked about such things as changes in systems operations; the development of a "dashboard" to display sometimes conflicting data about FairPoint's accomplishments, allowing better measurement of progress; and cost controls under which he approves all new hires in a company with 3,500 employees.
Most notably, the company has created a new position of vice president of business solutions, whose main job is to hire one or more outside analysts by mid-November to provide recommendations for system-wide, long-term solutions, and then to see them implemented.
"We know that northern New England is what makes or breaks FairPoint," Hauser said.
Almost bigger than the service problems are financial issues. FairPoint had to renegotiate a half-billion dollars worth of debt, to avoid making cash payments that it couldn't afford. The payments to bondholders and banks are now due Oct. 1, unless a new deal can be struck.
He said that operations of the phone network would not be affected if this happens, largely because the new owners would want the system to continue bringing in money from customers.
FairPoint also is facing delisting from the New York Stock Exchanges because its share price is so low, a move that would force it to sell shares on the over-the-counter market. But Hauser said if this happens, it would have "no direct financial impact" on FairPoint, dismissing delisting as "reputational noise."
FairPoint isn't alone in its financial situation. Hawaii Telecom, created when Verizon sold its land lines in that state, is already in bankruptcy court.
The FairPoint situation is being closely watched by regulators in 14 states, where Verizon wants to sell lines in many rural markets to Frontier Communications, which operates a smaller number of similar systems, for $8.5 billion.
One thing that came out of the Sept. 9 hearing is that the technical side of the region's telecommunications network has few problems and is operating well.
— DAVID BROOKS
THE TELEGRAPH