FairPoint bankruptcy leaves smaller phone firms on hold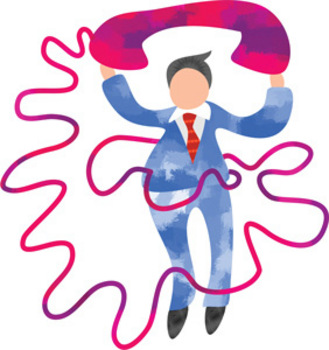 Once upon a time, businesses received telephone service from one phone company, an entity not always lovingly referred to as "Ma Bell."
But when FairPoint Communications closed the deal to buy Verizon's landlines in March 2008, those days were already ancient history.
Now there is a good chance that your business deals with a competitive local exchange carrier – or CLEC — that leases FairPoint equipment for your telecommunication needs.
And if you think residential service has been a mess since FairPoint took over, and went into bankruptcy, business service has been even worse. CLECs have complained of horrendous problems during the transition to FairPoint ownership, creating major problems in serving customers. Furthermore, they say, FairPoint reneged on a deal to pay a penalty for such poor service that could have resulted in millions of dollars for the CLECs. One company is in court arguing that FairPoint has simply stopped renting out additional lines, and threatened it to cut off the lines it is currently using.
Yet out of the CLEC chaos may come opportunity. Many CLECs have been building their own fiberoptic systems. And some smaller local phone companies, such as Oxford Networks (formally and formerly known as Oxford County Telephone and Telegraph Company In Lewiston, Maine) have been spreading their fiber systems into other states, like Salem, N.H., and Massachusetts.
They say that business and institutional customers, fleeing FairPoint, are ending up in their laps.
"Everybody sees this as the time," said Fletcher Kittredge, chief executive of GWI in Biddeford, Maine, which has built its own fiber systems to serve such New Hampshire cities as Manchester, Dover and Portsmouth. The company also is using stimulus money for a major expansion into Maine's rural area with a fiber-wireless combination.
"Always in the back of our mind is, we have the chance to be the next FairPoint — if it doesn't kill us between now and then," said Kittredge.
'Explosion in demand'
Kittredge may be talking more bluntly than most CLECs. The company has a $4 million dispute with FairPoint and now is in bankruptcy court asking that the regular courts and regulatory authorities be permitted to resolve it.
But it isn't just GWI. Two major New Hampshire CLECS – complaining of service during the transition – are adamantly opposing FairPoint's attempt to get out of penalties for precisely those performance issues.
Portsmouth-based BayRing Communications is now laying fiber to Concord in its biggest build-out in a decade.
"We have an explosion in demand," said David Gibson, director of business development. "People want faster speed when it comes to the Internet."
And the FairPoint situation "is making people appreciate more the provider they have. Frankly, for a company like BayRing, it's a net positive."
That a CLEC can become a force of its own is not so far-fetched. When competitive exchanges first started, there were dozens of them. Now, said Gibson, the number of CLECs in New Hampshire means "we could meet in a car."
That adds up to larger territories, more customers and more capital.
Still, nobody is talking about building an entire new telecom system just yet.
"The ways the laws are set up, it assumes that there is a phone company that is stable and that can do stuff," said Kittredge. "It behooves us to have a functioning system, even though they are competitors."
Even companies like Oxford – which have spent the last dozen years building out its fiber so it was less dependent on first, Verizon, and later, FairPoint — say they can't go it alone.
"We all need one another. We are totally interdependent," said Craig Gunderson, president and chief executive of Oxford.
Bitter complaints
From the start, the CLECs were worried that a relatively small North Carolina-based company like FairPoint – a company that grew fivefold when it acquired the northern New England landlines – could handle the purchase. But the CLECS had so many headaches with Verizon, that they were willing to give the new company a chance, especially when that company agreed to abide by the deals that had already been worked out with Verizon.
Indeed, in October 2007 BayRing, SegTel and Otel Telekom, three New Hampshire CLECS, said they would support the FairPoint sale if those agreements were left in place.
One of the key agreements was incentive payment requirements through the Performance Assurance Plan (PAP), which Verizon originally signed in 2006.
Under the agreement, Verizon, and then FairPoint, agreed to a penalty for bad service. To figure out the penalty, the company released various statistics about such things as ordering, provisioning, maintenance and repair, billing and network performance.
But during the cutover, which began in February 2009, things became increasingly testy between FairPoint and the CLECs.
In March, for instance, BayRing filed a bitter complaint:
"BayRing is unable to process the most basic preordering functions, such as obtaining Customer Service Records, Address Validations, and Loop Qualifications," the company said in a complaint to the New Hampshire Public Utilities Commission. "On many days, FairPoint completes no BayRing orders."
BayRing wanted the PUC to enforce the penalties, but FairPoint sought "relief" for March and April of 2009, "because of unprecedented and unforeseen issues related to the system cutover launched in February 2009," amounting to "situations beyond FairPoint's control," the company told the PUC.
One of those situations was stated this way:
"Rather than duplicating Verizon's legacy systems (some going back four decades), FairPoint developed its own systems designed for its needs and reflecting the recommendations of its consultant, Capgemini. This involved the creation of 60 systems necessary to provide service to 1.5 million lines and was an effort long dreamed of, but still unprecedented, in industry history.
"Those problems, which have been well documented, resulted in FairPoint missing a large number of PAP metrics," the company said.
If FairPoint had to pay the CLECs for its problems in February through April, it would have cost about $2.9 million, or roughly a million a month.
As problems continued to develop, FairPoint asked the PUC for greater relief, reducing future payments under PAP by 65 percent (though some CLECs argued that FairPoint was trying to be relieved of even more of the payments, using figures like 82 percent, or even 99 percent. Instead of a few million dollars, they argued that this could ad up to tens of millions of dollars.
"For FairPoint to ask for such a reduction in the face of its continuing poor wholesale performance stretches the limits of reasonableness to the breaking point. Now is the exact wrong time for the Commission to reward FairPoint for its past and continuing problems by relieving it of its bargained for wholesale obligations," wrote Trina M. Bragdon, an attorney for CRC Communications of Maine Inc., another CLEC.
But a greater problem, said the CLECs, was not what FairPoint was asking for – they argued that the company simply wasn't paying the penalties or even keeping track of the service problems to determine what was owed.
"FairPoint ceased reporting on required metrics and ceased making required PAP payments or bill credits to CLECs," said an Oct. 29 filing in front of the PUC by BayRing and SegTel Inc. The filing came three days after FairPoint declared bankruptcy.
'Dark' fiber dispute
The bankruptcy, however, has put the PUC proceedings on hold. And though there haven't been any filings in bankruptcy court in New York City specifically addressing the PAP issue, there is some indication that FairPoint may continue to simply ignore them.
In a footnote to a motion to "Continue Certain Customer Programs And Practices In The Ordinary Course Of Business," FairPoint said, "This Motion does not address any obligations that may arise in connection with any performance assurance or service quality indicator penalties assessed or established by state utility commissions."
However, it is the state's position, said Senior Assistant Attorney General Richard Head, that FairPoint will continue to abide by PUC regulations through bankruptcy.
"The PUC jurisdiction is not affected," said Head.
Others are not so sure, however. They worry that FairPoint could use the bankruptcy process to bypass the penalties payment. "This is a major concern," said Gibson. "We are watching it closely."
FairPoint doesn't dispute that it withheld payments before filing for bankruptcy.
"If payments were not made, it is because they are still disputed," said Jill Wurm, a FairPoint spokesperson in New Hampshire.
Wurm wouldn't say that when the dispute is resolved if payments would be made because under bankruptcy the CLECs might have to wait in line with other unsecured creditors.
"We haven't gotten to that point yet," Wurm said.
As for the PAP payments going forward, FairPoint will keep records required to figure out a payment, but what that payment will finally be is up in the air.
"We need to sit down with regulatory authorities and see what impact the Chapter 11 filing will have," she said.
What law trumps what in this tangled web of bankruptcy courts, state utility law and federal communications statutes? Lawyers are still trying to untangle it.
Already, several electric utilities argue that they can't be treated like any other unsecured creditor because the state has a public interest to protect those ratepayers. For instance, Maine's Banger Hydro, in a motion echoed by several other power companies, said that it was not satisfied by a motion that allow FairPoint to only provide half the cash of the estimated monthly cost for all utility service.
"This is patently unreasonable and the Debtors offer no justification for their unilateral determination of the adequacy of this proposed nominal assurance," said one Bangor Hydro filing. "If the 'assurance of payment' proves inadequate, the Debtors will have received a windfall at the expense of Bangor Hydro's ratepayers."
Perhaps the biggest battle is being waged by GWI, which rents "dark," or unused, fiber from FairPoint.
In a dispute that stretches back to Verizon ownership, GWI is arguing FairPoint owes it $1 million. But FairPoint disagrees, and in March refused to accept GWI new orders for dark fiber.
Then in September, FairPoint told GWI that within a year it would cease providing dark fiber, and back-billed for it, resulting in an invoice to GWI for $3 million. If FairPoint didn't get the money, according to GWI, the phone company would simply cut it off. GWI is looking to settle the matter in court.
FairPoint's position was "indefensible and inaccurate," said Kittredge. "They completely made this stuff up. But now they are in bankruptcy, and we may never get a fair hearing on this."
FairPoint says that new regulations allow it to charge steep rates for dark fiber.
"We are just asking that GWI pay the appropriate rate," said Wurm.
<p>
<font size=1>Bob Sanders can be reached at bsanders@nhbr.com.</font size>