Exports pull back in July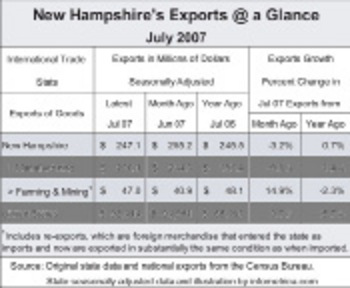 Exports of goods continued to be on a record-breaking path in July as companies across the nation sold abroad an all-time high amount of goods. National exports expanded at the fastest monthly pace since April 2005 to their 10th record in the last 12 months.
The combination of vigorous productivity, strong global economic growth and a low dollar has created a "perfect" export environment for New Hampshire's companies. State exports stayed on their upward trend in July, according to the latest international trade numbers.
Productivity gains have remarkably helped exporting companies to control costs and improve their competitive position around the globe. Rising productivity acts as a cushion to increasing production costs amid higher energy prices and raises in workers wages.
Countries with high productivity have an advantage, since they can sell their products abroad at lower prices than those charged by countries with low productivity.
According to the annual report of the International Labor Office, a Geneva-based agency of the United Nations dealing with the measurement and issues related to workers around the world, the United States leads the world in productivity. Some global regions are catching up, but most lag behind.
The ILO report, "Key Indicators of the Labor Market," report also shows that the productivity gap between the United States and most other industrial countries continued to widen. The acceleration of productivity growth in the United States has outpaced that of many other industrial countries.
Specifically, the United States ranked first among all countries, followed at a considerable distance by Ireland, Luxembourg, Belgium and France.
The average American worker produced $63,885 of goods and services in 2006. In Ireland, the average worker made $55,986 in a year and the French worker, who ranked fifth, generated an average $54,609 in goods and services. Worldwide, the average global worker produced $19,834 in goods and services in 2006.
It is interesting to note in this year's rankings that in China, productivity was substantially lower than in the United States. The ILO report points out that productivity in China was about one fifth of the productivity recorded in the United States.
In July, New Hampshire exports pulled back from their all-time high level recorded in June by 3.2 percent, to $247.1 million, adjusted for seasonal variation. It was the third-highest monthly reading in state exports on record.
On an annual basis, New Hampshire's exporters posted gains in selling their goods abroad. In July of this year, foreign outbound shipments from state companies surpassed their mark set in July 2006 by $1.6 million, or 0.7 percent.
In July, shipments abroad from New Hampshire manufacturers decreased 6.6 percent to a seasonally adjusted volume of $200.1 million from June and were 1.4 percent higher than in July of 2006.
Exports of non-manufactured goods rose 15 percent in July, to $47.0 million, adjusted for seasonal variation.
For the country as a whole, U.S. exports of goods, seasonally adjusted, jumped by 3.7 percent in July to $98.4 billion to an all-time high mark from June. Through the first seven months of 2007, national exports of goods increased by an impressive annual rate of 11.4 percent in comparison to the first seven months of 2006.
In comparison to the same period of 2006, overseas sales from New Hampshire's companies — seasonally adjusted — increased by an annual rate of 3.1 percent, compared with a 14.4 percent average growth for the nation as a whole.
As a result, New Hampshire ranked 42nd among the 50 states through the first seven months of 2007 in export growth.
Evangelos Simos, chief economist of the consulting and research firm Infometrica Inc., is editor for international affairs for the Journal of Business Forecasting, and department chair at the Whittemore School of Business & Economics at the University of New Hampshire. He can be reached at eosimos@infometrica.com.