Explore the flavors of Rhineland in a glass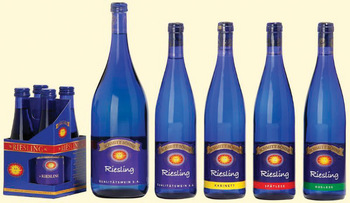 When German wine is mentioned, many people immediately conjure up the image and the taste (or lack thereof) of a blue nun-labeled hard soda pop.
Rhine wine — or more precisely Riesling — grown near the rivers in southwestern Germany, can be a bit sweeter than a Chardonnay, but it is also spicy and complex, nothing like the saccharin Liebfraumilch that sat sweltering away in 1970s picnic baskets.
Most of Germany's wine-growing regions hug the Rhein and Mosel Rivers and their tributaries setting up an interesting microclimate.
Those living near bodies of water in New Hampshire can see firsthand what a great vessel for heat water is as evidenced by mists that rise when the air is cooler than the water.
That heat and even reflected sunlight from the rivers enable grapes to be grown in that corner of Germany.
Rieslings are all about fruit and floral characteristics. An abundance of apple and other cool climate fruit flavors such as pear are most prominent and are coupled with a fragrant nose.
Riesling can come in two styles, one sweeter, one drier. Often American-born Rieslings tend to be drier and more floral, and German a bit sweeter, but this is by no means a rule.
With German Rieslings, look for the term "trocken" on dry vintages and "kabinett," "spätlese" or "auerlese" for sweeter varieties, with kabinett being off-dry and auerlese being fully sweet. But with German labels bearing names that seem to be 20 syllables long, do not confuse "trocken" with "Trockenbeerenauslese" — the second term refers to grapes that were dried to the point of nearly being raisins and results in an almost syrupy dessert wine — a very expensive dessert wine at that.
Rieslings tend to be lighter bodied, which means they are lower in alcohol content. Most of the Rieslings on the Diversions tasting list were in the 8- to 9-percent alcohol range. Compare this lighter-bodied style to a Chardonnay at 13 percent.
The touch of spritz — a hint of effervescence — that many Rieslings have blends with palate-clearing acid to make this wine an ideal companion with food, especially typically hard-to-pair Asian and Mexican cuisines.
German Rieslings give plenty of bang for the buck. Great bottles are available under $20, even under $10.
With all its advantages, German Riesling deserves more time in your glass and on your tongue.
Here are our selections, all available at New Hampshire State Liquor Stores and grocery stores:
• 2004 Weber Zeller Schwartz Katz (Mosel-Saar-Ruwer, $7.99): The classic Riesling floral nose with big fruit flavors. Honeyed lemons with deeper flavors of pears and even apricots led to a surprisingly long finish. The legend surrounding the wine is even more interesting than the wine itself. As the story goes, four wine merchants were trying to decide which of the three wines they were tasting were the best. The wine-grower's black cat (hence "schwarz katz") suddenly leaped up on one barrel and clawed at anyone who tried to approach that particular vintage. Obviously, this must be the best wine, the merchants surmised. A good story or a marketing ploy? Either way, Weber is nice, simple wine for the price. Alcohol: 9%.
• 2005 Schmitt Söhne Kabinett (Mosel-Saar-Ruwer, $11.99): Light-bodied and off-dry from the ripened grapes, this kabinett Riesling tasted similar to quality cider (think Farnum Hills, not Motts), with notes of apples, pears and melons. Alcohol: 8.5%.
• 2005 Grans-Fassian (Mosel-Saar-Ruwer, $15.99): Scents of pear hint at the luscious pear flavors in the glass. Off-dry with a touch of spritz, citrus flavors such as grapefruit and pineapple round out the wine. Alcohol: 8.5%.
• 2005 Reichsgraf von Kasselstaff ($13.99): This pale-gold Riesling was rich and full-bodied with tons of juicy fruit perfectly balanced with a dry, almost yeasty finish. A great wine. Alcohol: 11%.
• 2005 Schloss Johannisberg Kabinett ($26.99): Full-bodied and off-dry, the sweet apples, ripe pears and a touch of citrus come through with good balance. Little to no spritz. Alcohol: 12%.
• 2005 Bassermann-Jordan Forster Jesuitengarten Spätlese (Pfalz, $28.99): This spätlese was indeed sweeter than the others, but the touch of spritz and ideal balance kept the wine from becoming cloying. Deep fruit flavors like ripe apple and apricots give it an almost Asti Spumante character. Alcohol: 9%.