Experts: Housing fix still tough sell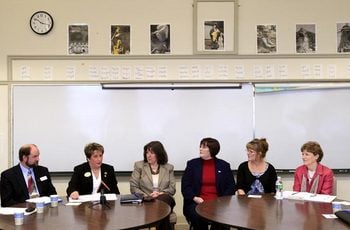 NASHUA – While a tax credit for first-time homebuyers might breathe life into a sluggish market, more needs to be done to help residents facing foreclosure to stay in their homes and to encourage new home construction, representatives of real estate and homebuilders organizations said Monday.
Despite signs the housing market is loosening up, "I am skeptical as to whether we've seen the worst of it yet," said Paul Morin, a builder and representative of the Homebuilders and Remodelers Association of New Hampshire.
While new home sales are important, jump-starting the home-building industry is key to economic recovery, he said. "To get electricians and carpenters and plumbers back to work, you've got to be building new buildings," Morin said.
He was one of about 20 people who attended a roundtable discussion at the Adult Learning Center. The discussion was organized around a visit from U.S. Sen. Jeanne Shaheen.
"There are benefits available for persons looking to purchase homes, and we want to make sure they know what these are," Shaheen said.
A key change is an $8,000 tax credit for first-time homebuyers who close on their homes between Jan. 1 and Nov. 30 this year. The credit doesn't have to be repaid, and first-time homebuyers who have already filed their 2008 tax returns can file an amended return to get the tax refund this year.
A person or family who hasn't owned a home for three years qualifies as a first-time buyer and can receive the tax credit. The one stipulation: The buyer must live in the home for three years.
But the tax credit doesn't help current homeowners struggling to fend off foreclosure, several people attending the roundtable discussion noted.
"I'm particularly concerned about the foreclosure problem," Mayor Donnalee Lozeau said.
She used a hypothetical example to illustrate the issue: "The Smith family owns a home, gets foreclosed, and then we make it affordable to the Jones family. That's hard to reconcile," Lozeau said.
One thing that might help is the $5.9 million in federal Neighborhood Stabilization Funds earmarked for the city, she said.
Other speakers urged Shaheen to push for extending the tax credit to current homeowners. Proposals to increase the credit, however, were cut from the federal budget to reduce the cost of the stimulus package, Shaheen said.
Despite the tax credit, owning a home remains out of reach for many residents, others noted.
While some regions have seen a drastic reduction in housing prices, that hasn't happened in New Hampshire, said Dean Christon, executive director of the New Hampshire Housing Finance Authority. Here, prices have fallen slightly, he said.
"Affordability is still an issue," Christon said.
Also, it's harder now for potential homeowners to get a mortgage because of tougher credit requirements, said Ralph Coppola, branch manager of a mortgage company and representative of the Mortgage Bankers and Brokers Association of New Hampshire.
Fear of losing their jobs also has prevented some people from buying homes, some speakers noted.
For buyers prepared to purchase a home, "there is no better time," said Gail Athas, a representative of the New Hampshire Association of Realtors.
"It's not going to take long until the good homes are taken," she said. "The more buyers who get into the mix, the less homes will be available."