Ex-councilor files to be town clerk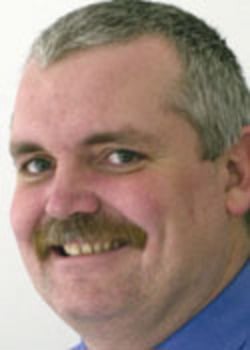 MERRIMACK – After a year's hiatus from public life, former Town Council Chairman Dave McCray now wants to be the town's clerk and tax collector.
McCray filed for the elected position Thursday, and if no one else joins him by the close of business today, he alone will face off against incumbent Diane Trippett, who's held the position for 14 years.
McCray, who opted not to run for a third council term last spring, said he took a year off "just to get time to breathe." He's been focused on running his car-service business and has also remained a lead organizer of the town's fall business expo.
Now, McCray said, he wants to get back to municipal duties as clerk and tax collector, a position with lots of public interaction.
"The bottom line is, my real love is government service," McCray said. "I believe there's a lot of areas I can improve that department, and I want to put my money where my mouth is."
McCray talked about wanting to improve customer service and be an "advocate" for taxpayers by helping explain the office's functions and the possibilities, such as abatements.
Town Meeting '09
He applauded Trippett's service to the town but said his "new ideas could improve the clerk's office."
Trippett is rounding out her 20th year as a Merrimack town employee. She started as a temp in the clerk's office, moved through two account clerk positions and then was promoted to deputy town clerk.
When Betty Spence left the clerk's post in 1995, Trippett was appointed to fill out her term until the following Town Meeting. She then ran in 1996 – with competition – to finish the final year of Spence's term. Trippett won and then ran again successfully in 1997.
She has run unopposed in the last three elections.
"There's just a tremendous learning curve," Trippett said of the position. "It's very detail-oriented. It's very process-oriented. There's a lot of accountability in terms of the monies and customers' accounts . . . I don't feel it's a position where you can walk off the street and be able to step into it and run with it."
At the same time, Trippett said she wasn't surprised to have an opponent this year because the position pays well. This year's budget includes $64,688 in wages for the town clerk/tax collector.
"I think I was kind of expecting it, given the climate and the economy right now," Trippett said.
McCray said his car service business is going strong, and that, if elected, he'd hire a general manager to handle its operations.
Election Day is slated for April 14, and both candidates plan to be out fighting for votes.
"I definitely will be out there campaigning, trying to retain my position," Trippett said. "I love my job. I love serving the people of Merrimack. I wouldn't be there for 20 years if it I didn't enjoy it."
Those wanting to run for public positions in town must do so at town Hall by 5 p.m. Candidates must be registered to vote and domiciled in Merrimack for at least one year.
Here's the list of filings as of 4 p.m. Thursday:
Town Council, three seats: Tom Mahon, Thomas A. Lynam, Daniel Dwyer, Michael R. Malzone, David Yakuboff Sr. and Michael Turcotte.
Ethics committee, two seats: Michelle A. Gosselin and Robert N. Kelley.
Trustee of trust funds, one seat: David T. Rutzke, Richard Barry and John Lyons.
Library trustee, two seats: Robert N. Kelley, Barbara Tucker and John D. MacLeod.
Town clerk/tax collector, one seat: Diane Trippett and David McCray.
Treasurer, one seat: Linda B. Wilson.
All positions are three-year terms.