The Power of "And": Responsible Business Without Tradeoffs
When:
April 2, 2020 @ 6:00 pm
2020-04-02T18:00:00-04:00
2020-04-02T18:15:00-04:00
Where:
NH Institute of Politics
Living Learning Commons
Saint Anselm College, 100 St Anselm Dr, Manchester, NH 03102
USA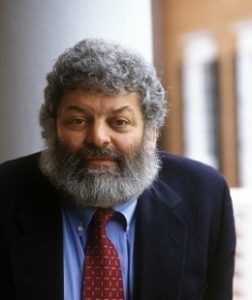 Ethics in Governance Forum: "The Power of And: Responsible Business Without Tradeoffs"
Dr. Freeman shares that we have reached a turning point in how we think about business. While there are various proposals for the reform of capitalism, there are five key ideas that should be addressed. All five revolve around seeing business through multiple perspectives. They are: Purpose and Profits; Stakeholders and Shareholders; Society and Markets; Humanity and Economics; and, Ethics and Business. This new story of business in the real world has shown a great deal of progress, creating a very optimistic outlook for business in the 21st century.
R. Edward Freeman is best known for his award winning book, "Strategic Management: A Stakeholder Approach". He is a University Professor, an Elis and Signe Olsson Professor, the Academic Director of the Institute for Business in Society, and a Senior Fellow of the Olsson Center for Applied Ethics at the University of Virginia Darden School of Business. He has received six honorary doctorates for his work on stakeholder theory and business ethics. They were earned from: The Radboud University in the Netherlands, the Universidad Pontificia Comillas in Spain, the Hanken School of Economics, Tampere University in Finland, Sherbrooke University in Canada, and Leuphana University in Germany. Freeman is also Co-Editor-in-Chief of the Journal of Business Ethics, one of the leading journals in business ethics. He has also written and co-authored many other academic books. His latest include, "The Power of And: Responsible Business Without Trade-Offs", "The Cambridge Handbook of Stakeholder Theory", "Research Approaches to Business Ethics and Corporate Responsibility", and "Bridging the Values Gap". He is a lifelong student of philosophy, martial arts, and the blues. Freeman is a founding member of "Red Goat Records", bringing the joy of original soul and rhythm and blues music into the 21st century.
Free and open to the public.
This program is part of the Ethics in Governance Forum. The Forum features programs on topics related to governance, leadership, social responsibility and the common good, reflecting our mission of "inspiring a culture of ethical integrity within organizations and working to improve personal financial literacy."
The Forum is supported by an endowment fund created by the N.H. Secretary of State's Office and the Center for Public Responsibility and Corporate Citizenship that was awarded to Saint Anselm College in 2013. The endowment was created from a settlement reached between the New Hampshire Securities Bureau and Tyco International, LTD in 2002 and is administered by the University of New Hampshire Foundation.
Comments
comments