Escapee in court for charges in manhunt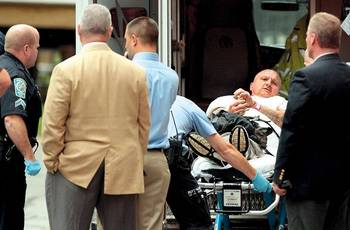 NASHUA – Peter Gibbs returned to court Tuesday, and this time, he didn't escape.
A day after the 43-year-old convict broke free from Hillsborough County Sheriff's officers at Nashua District Court – leading to an hour-long manhunt by police – Gibbs came back to the courthouse for an arraignment on a resisting arrest charge related to his capture.
The arraignment Tuesday shed no light on how Gibbs distanced himself from the sheriff's court officers Monday morning and managed to jog to a nearby apartment building and then to the Nashua River with one leg shackled and both hands restrained by cuffs.
Hillsborough County Sheriff James Hardy said his department's internal investigation into Gibbs' escape is ongoing. He said that the sheriff's office is preparing charges to be filed against Gibbs for the escape but declined to provide any further detail.
Gibbs' appearance in court Tuesday was for an arraignment on a misdemeanor resisting arrest charge. Nashua Police charged Gibbs with the crime for what allegedly transpired when three officers jumped into Nashua River and pulled him to him land.
Gibbs went under water immediately, police said. When police Sgts. Sergio Hebra and Frank Sullivan and officer James Hargreaves pulled him onto an embankment, Gibbs kicked them and resisted their attempts to arrest him, police said. A Manchester police dog who helped in the manhunt bit Gibbs as he struggled with the officers, police said.
Gibbs pleaded not guilty to the charge.
The Nashua native was in court Monday for a probable cause hearing on a home invasion charge. Because he technically failed to show up for the hearing, it was postponed to Aug. 18.
Somehow, Gibbs escaped the custody of the court officers, hopped across the Chestnut Street roadway island circling the courthouse and ran across the nearby parking lot of Clocktower Apartments.
Witnesses saw Gibbs enter the apartment complex's main entrance and disappear from view. Police soon after locked down the building as part of the search.
A slew of Nashua police and sheriff's officers combed the surrounding area – including the downtown Millyard and river – and ultimately tracked Gibbs to the rear of the apartment building from a security camera.
The Manchester canine, Fritz, spotted Gibbs in some bushes on the riverbank.
Gibbs has spent more than half of his life behind bars and stands to spend a good part of the rest of his life there if convicted on the charges currently pending against him from two home invasion robberies in Nashua last winter, including one in which he is accused of tying a man up with Christmas lights.