EnviroVantage saves contractors time and money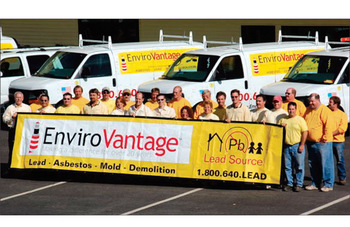 Asbestos in the walls and mushrooms in the carpet are among the interesting things Frank Ronan has discovered and abated with EnviroVantage, the environmental cleanup company in Epping. Mold remediation is something that has kept the 24-year-old company extra busy over the past couple of years, as parts of New Hampshire have experienced severe flooding.
"It was brutal," Ronan says. "Before we see how bad the mold is, we have to get rid of the water — empty out the water in basements and then go back and do it again. Then evaluate how much mold is in the walls and act accordingly. It's a small step process that makes it all the more complicated for a contractor. Contractors make money when they go to a place and stay there until the job is done. There are lost hours when you go from job to job over and over again. In that respect, it's a challenge."
And, as Ronan spoke at the beginning of April, what this spring holds in the way of flooding remained uncertain. "The governor is concerned about major flooding and being prepared for it, but you're never really prepared. There's no clue how bad it's going to be."
However bad it has been here, EnviroVantage has been to places where it has been worse. Have you ever seen mushrooms growing in the carpet of a motel in Beaumont, Texas? Ronan has and is proud to say his company successfully removed the water and the mold and helped the company stay in business — as a motel, not a mushroom garden. Yet for all that, mold remediation is about 15 percent of all the work done by EnviroVantage.
"Everything else we do is regulated by OSHA and EPA, with very strict requirements," says Ronan. Right now, he says there are only two or three contractors in the state doing lead paint abatement, as the number of buildings to be abated has diminished over time.
"The insurance is frightfully expensive," Ronan says. EnviroVantage works on buildings for public institutions as well as residences and private commercial accounts. "We've done renovation for the town of Saco, Maine. We've changed mills to mixed use. We went in and removed all the asbestos and lead paint and sand-blasted. We returned to install 683 windows. The contractors go in after us — the plumbers, electricians and the builders who can make apartments and shops into a clean, dry environment. That's our niche. We've done 35 or more mills throughout New England, from a 1680 mill in Whinsville, Mass., to the 1820s mills at Saco, Maine, to the Newmarket, N.H., mills to the Boot Mills in Lowell, Mass.
"That's the place general contractors see us as having the most value," Ronan says. "Because we're able to take care of multiple hazardous materials so that the contractor knows no time will be lost on the project. That's what makes us who we are."