Election may usher in new era for US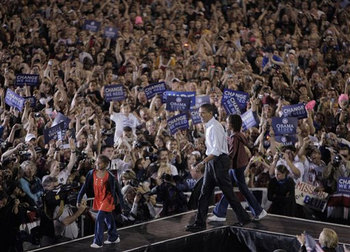 Perry Spearman remembers having an unusual feeling as he watched Sen. Barack Obama work the crowd moments after delivering his nomination acceptance speech at the Democratic National Convention.
"There are people pushing babies toward him," Spearman thought "and he's kissing the babies like all other politicians . . . and that's throwing me off."
Spearman couldn't yet accept that a fellow African-American had just become the first black presidential nominee of a major party. What seemed just as unbelievable was that the admiring crowd was composed of not just blacks, but people of many races.
The Nashua resident watched the nomination speech with his father, who is in early 70s, and his mother, who is in her 60s. His parents had lived in the South before raising a family in New England and had experienced Jim Crow policies firsthand.
But now, the Spearman family had a living-room perspective of a historic event that felt as implausible as Neil Armstrong walking on the moon.
A black man as president? "This possibility didn't exist," Spearman said.
But the constant beat of crushed possibilities lessened considerably when Obama earned his party's nod, and it could diminish even more if the Illinois senator passes through one of the largest thresholds of equality and wins the presidency by defeating Arizona Sen. John McCain, Spearman and other African-Americans in New Hampshire said last week.
While those interviewed say many more barriers must be passed before racial discrimination fades into near oblivion, Obama's run for the White House has turned a large page in race relations.
What pleases them is how Obama's skin color doesn't always enter the conversation. More often than not, they said, people of all races focus on Obama's political positions, his vision for the future and his ability to inspire – and nearly forget he is black.
"A lot of black people I talk to, it comes down to not the fact that he's black," said Manchester resident Cece Hackett, who is also a Democratic candidate for state representative.
Indeed, during the primary season, many African-Americans – Hackett among them – supported Obama's Democratic rival, Sen. Hillary Clinton. While proud of Obama's accomplishment, they didn't want to support a candidate just because he's black, but instead, felt they had to back someone who had the best shot of forwarding their political ideals.
To Hackett and other African-Americans, that candidate was Clinton.
But Hackett started listening to Obama more closely and got "an inner feeling" that pushed her toward him.
"I would feel like he's Martin Luther King," she said. "He just goes through you."
Echoing Hackett and others, Jean Jeudi thinks Obama's inclusive message to all races mirrors the views of his supporters. He accepts them; they accept him.
"He doesn't exclude anyone," said Jeudi, a Manchester resident and Haitian immigrant. "And you see the elderly go after him and give him a hug. Youngsters in college are crazy about him.
"I don't have anything against Senator McCain, who works so hard for the country and who almost gave up his life for this country. But for Senator Obama, it's his time."
Jeudi doesn't believe any racial backlash will cost Obama votes. And while others interviewed acknowledged that a considerable number of voters wouldn't like the idea of a black president, they think the country has turned enough of a corner that racism won't prevent an Obama presidency.
Still, the country has more hurdles to pass even with the progress of Obama and African-Americans, said several of those interviewed.
Democratic State Rep. Kris Roberts, like Obama, is biracial. Roberts said Obama's candidacy shows Americans are comfortable with biracial leaders, but haven't reached the same acceptance of blacks.
Obama, like other biracial politicians and people of prominence, has had an easier time blending in, Roberts said. And Obama didn't make race a theme of his campaign, and dispatched those who do – such as Jesse Jackson and Al Sharpton – to the margins to not offend anyone, he said.
"We're going by inches," Roberts said. "It's much better than when I was growing up in the '60s, when we were killing each other."
Roberts is nonetheless proud of Obama and his achievement, and will support him Tuesday because of the candidate as a whole. He also thinks the pressing issues facing the nation – particularly the economy – have made voters forget about race and focus on who can best move the country forward.
"When it's desperate times, people worry about their own survival," Roberts said. "You could be a bigot, and if the guy who can save you in the foxhole is black, you forget he's black."
Hackett said she's amazed her 24-year-old son never thought racism existed. He has white friends and hasn't experienced prejudice, she said. It's proof that with each generation, another level of racism dies with it, she said.
"We should make this not just about black people, but all minorities," Hackett said. Obama demonstrates that "if you do everything you need to do," she said, "you really can achieve the highest goals."