Eight clamoring for registrar of deeds position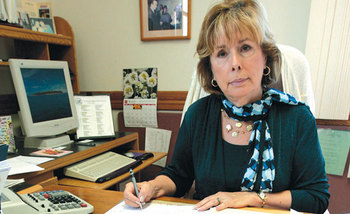 Politics junkies must be happy. There's a presidential race going on – perhaps you've heard? – and the countryside is crawling with New Hampshirites who want you to send them to Washington or Concord.
But real election junkies want to find the extremes. For them, the gem in the Sept. 9 party primary elections is way down the ballot, in one of those positions that many people don't even know exist: Hillsborough County registrar of deeds.
No fewer than eight people – four in each party – are running for that job, making it by far the most crowded single position on the primary ballot that people will see Sept. 9. Talk about choice!
"I was surprised at the number," said Judith MacDonald, who sounded slightly amused at the throngs trying to replace her when she retires after 28 years on the job. "It's very unusual to have that many."
The registerof deeds job is so overlooked that The Telegraph originally wasn't going to include it in our online Voters Guide, which is designed to highlight obscure races. But then the campaign signs started sprouting and we changed our minds.
So what exactly does the registrar of deeds do, anyway? Basically, the job ensures the legality of the records that underpin property ownership.
"We're responsible for recording all transactions that relate to real property – homes, commercial buildings, land . . . including documents that might pertain to the properties, such as foreclosures, divorces, deaths, that kind of thing," she said.
Working out of an office on Temple Street in downtown Nashua, MacDonald oversees a staff of 19 that produces a decent chunk of income. In good times, the office has collected more than $7 million a year in fees and transfer taxes, she said, although the current slump has reduced that to around $4 million.
The full-time position pays $56,100.
The office has embraced the Internet, too, providing online record searches that allow (in MacDonald's words) people to "do their research in their pajamas."
"We will have electronic recording before I leave, so people will never have to leave their offices," she said. That even helps fee collection: For example, copies cost $1 if you come into the office, but $2 online.
Despite the lack of any obvious political element, the county registrar's job has been a partisan-elected position for centuries.
"I have never asked any of my staff what political affiliation they are," she said. "We're not political at all."
Still, MacDonald, who is 66, said part of the reason she is retiring is that "I'm tired of the political power plays."
"That's all I'm going to say about that," she added firmly.
MacDonald said all eight hopefuls are either familiar with the office from previous work, or they have gotten tours since they decided to run.
"What really matters is the background – can they do the job?" she said.