Economy takes chomp at Nashua's dining scene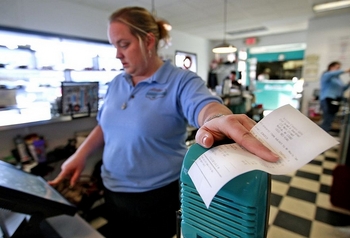 The palm leaf fans, the old Casablanca charm, the collectables and eclectic chachki are still in place. The food's the same; the drinks still flowing. But something's not quite right at Nashua's Black Orchid Grille.
"People seem to be making going out to eat more of an event than something they do regularly . . . With the economy and the stock market, people are scared," said Joey Zontini, general manager of Black Orchid Grille at 8 Temple St. "We're definitely seeing less business during the week, but our weekend business usually picks up."
Amid a deepening recession that has spawned layoffs, wage freezes and a general sense of fear, restaurants and other leisure industries are feeling the squeeze of consumers' belt-tightening.
Zontini said even regular customers are coming in less often.
"The main thing we're seeing is our regulars who used to come out twice a week are coming out once a week. The people who used to go out twice a month, are only going out once. And I know there's been layoffs recently, so we're not seeing them at all," he said.
While overall, food service jobs have grown statewide since last year, the service and drink industry cut 1,300 between October and November alone. Full-service restaurants cut 700 jobs and limited service food places cut 100 jobs, according to the New Hampshire Economic and Labor Market Bureau.
"I don't think anyone is having their best year," said Mike Somers, president and chief executive officer of the New Hampshire Lodging and Restaurant Association, a statewide coalition of hospitality businesses. "I think mostly they are just happy if they are on par with last year."
Even the holiday season, usually a busy time for restaurants feeding hungry shoppers and fielding large holiday parties, isn't what was expected.
"We have seen the uptick in customers, but it wasn't as much as we'd hoped," Somers said. The restaurants that seem to be weathering the storm best are the lower end places, he said.
George Norton, owner of Norton's Classic Café on Main Street in Nashua, said he's seen a slight increase in business.
"We have done fairly well," he said. "We're up about 10 percent from last year. I think it has a lot to do with our prices. We're only open breakfast and lunch and you can still come in and get a sandwich for anywhere from $4.50 to $7.50."
"People still want to go out to eat a home-cooked meal and they know they can get that here and not break the bank."
At the same time, Norton said, he's not getting rich from the increase in business.
"I had to raise my prices about five percent, but the cost at the food store has gone up more than that," he said. "I can't raise my prices as much as that. So even though my customers are up, my profit margin and profits will be down this year. But, I'm still happy just to be doing business."
Some other restaurants aren't faring as well. Unums, an upscale restaurant and lounge with dinner entrees in the teen and $20 range that has only been around for a little more than a year, has taken a hit.
"We are still fairly new," Stephen Williams, one of the owners, said. "We have a pretty good base of customers, but we are definitely seeing less people coming out."
Williams, who owns the Pearl Street restaurant with his wife Karen and their head chef Constantine Brianas, said they are going start offering special promotions and live music to help draw customers.
"You know, there's only so long you can sit at home and be depressed," he said. "You gotta get out and cut loose once and awhile. So we want to offer that to people – good food, good music, a chance to get out and laugh and have some fun. We're hoping it will get people to come back out again."
Somers said this type of marketing strategy is a growing trend statewide.
"What you are going to see is restaurateurs starting to become very creative," Somers said. "The restaurants that have managed to retain their customers are the ones where customers know it's a good place, with a good value; that when they spend their money, they are getting every bit of their money's worth. You will start to see more restaurants offering value packages like that."
In addition to offering lower prices on menu items, restaurant owners are also cutting back on how they stock their restaurants by buying only what they will absolutely need for a few days or a week, changing vendors on some items, and doing work they normally would farm out themselves.
Norton said he's taken to using bulk stores like Sam's Club to stock his shelves at the cafe, or will pick up food orders himself in order to save on delivery costs.
"Even when vendors deliver, they sock you with a fuel charge," he said. "So I'll go pick up what I need myself. I save some good money that way. It's a lot of lugging, and it's time I could be at home, but it's worth it. And when I go myself, then I can check out every single price."
"Also, then I get just what I need . . . nowadays, you gotta buy just enough, because the waste will kill you. That's so important, more so than the profit margins," Norton said.
Zontini said the Black Orchid Grille still uses the suppliers they always have for meat and seafood, but they too have turned to bulk stores to stock up on dry goods and supplies for the restaurant.
But it's not just the owners feeling the pinch; servers and bartenders aren't faring much better.
"I'm also a bartender here. It's meant about a $300 hit in my pocket every week," Zontini said. You know all of us servers and bartenders in the area, we get together and go out every week, and we all talk about it. We are all definitely making less money and things are a little slower all over town. Yeah, it hurts us all."
"Here in Nashua, you're not going to find the career waiters and waitresses that you would in, say, Boston," he said. "It's mostly students and young people who live with seven other people. But they are feeling it."
Zontini went on to say that on slow nights they also face the prospect of getting sent home before the end of their shifts if there are not enough customers.
Williams said on any given night at Unums, he tries to keep his core staff small so they can make some money. But he's also cut back on other employees.
"Basically we have to watch every penny we spend," Williams said. "My wife and I and the chef, we spend a lot more hours here doing jobs we maybe we would have had other people doing in the past. Or, for example, instead of paying for a cleaning service, we have the bus staff do it. It saves us some money, they do a better job and it allows them to make a little more money too."
Though things look pretty bleak for restaurants, most are hopeful for a turn-around.
"You don't worry about how anyone else is doing," Zontini said. "You concentrate on just you . . . from the minute you sign on, you work for the value and service of the customer. You do that and you'll be fine. You buckle down, you work hard and you'll ride it out, just like any other storm."