Eco-entrepreneur hones in on responsible consumerism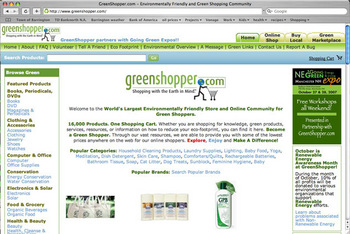 With the number of environmentally conscious consumers growing and vendors working toward meeting their needs by introducing "green" products daily, knowing where to shop and what to buy can be confusing.
Canterbury native Zachary Bouchard and his GreenShopper LLC has set out to make shopping easier for environmentally responsible consumers with the introduction of greenshopper.com, an Internet-based one-stop marketplace and reference guide for all that is green.
"We are providing information, awareness and an abundance of products," said Bouchard who, together with the support of his stepfather, Ron Litalien, launched the new site in April. "Anything you want to buy you can go to our Web site, greenshopper.com, and find its green alternative."
Bouchard's father, attorney Ken Bouchard, also has invested in the company and serves as legal counsel.
While other green sites exist online, an innovative affiliation between greenshopper.com and Internet shopping giant Amazon.com sets Bouchard's site apart.
"We're actually acting as a filter," said the 27-year-old Bouchard. "Amazon has millions of products. I'm just separating them out and giving people a place to go when they're looking for products that are environmentally friendly."
This unique partnership enables GreenShopper to meet the demands of consumers fond of big-box convenience by listing more than 15,000 eco-friendly products in easy-to-navigate categories. And because the online purchases actually go through a shopper's Amazon.com account, concerns over security are eliminated.
In addition to the easily navigated list of products, GreenShopper also includes books, DVDs and educational and informational material on a variety of environmental topics.
Responsible consumerism
For Bouchard, who holds a degree in philosophy and economics from Boston College, from which he graduated in 2003, the April 2007 launch of greenshopper.com was in many ways the result of a collision between two worlds.
Bouchard's childhood days were filled with outdoor adventures in the woods and fields surrounding his family's 200-year-old home in Canterbury. Conservation, an ongoing theme embraced by his entire family, kept the concept of waste at bay for Bouchard during those years.
As a young adult, Bouchard exchanged the New Hampshire countryside for city life when the quest for college and career lured him to Boston, where consumerism thrived.
It was there that a commitment to marry the demands of a consumer-driven society with society's environmental responsibilities stirred Bouchard's entrepreneurial spirit.
"After seeing companies pursuing profits with such a maniacal focus, with such a blatant disregard for human rights and the environment, I knew I just couldn't be involved in that way anymore," said Bouchard. "We cannot continue with what we're doing, and I think everyone innately knows that."
Bouchard left his lucrative position in Boston's financial services industry with hopes of writing a book promoting the environmentally friendly lifestyle. It wasn't long, however, before he realized the Internet provided a better venue for effecting the changes he hoped to make in the mindset of American consumers.
Bouchard's entrepreneurial venture comes at a time when environmental concerns are growing among consumers. Studies indicate an estimated 35 million Americans buy green products regularly, and, according to a recent American Environmental Values Survey conducted by the nonprofit organization EcoAmerica, 86 percent of Americans are "concerned about environmental issues" and 52 percent "prefer to buy brands associated with an environmental cause even if it costs more."
And while the cost of eco-friendly products can be higher in some cases, prices will come down as consumer demand increases and more businesses adopt eco-friendly practices.
"One of the most democratic things we can do is open our wallets. Whenever we buy something we make a statement," Bouchard said. "More businesses are going green because they're finding it makes economical sense. Consumers are making their demands known."
So far the popularity of greenshopper.com is supporting beliefs that American shoppers want to lessen their environmental footprint. The number of visitors to Bouchard's site has increased weekly through little more than word-of-mouth and small ads placed in environmental publications.
Bouchard hopes to increase the visibility of greenshopper.com with a national marketing campaign scheduled to begin over the next few weeks. And plans are under way to introduce a "buy local" section and "green marketplace directory" to the site.
Bouchard is confident greenshopper.com, like the environmental movement, will continue to evolve over time, adding to the number of people choosing to live a greener lifestyle.
"We know we can't stop people from consuming, but let's do it in a way that's sustainable," said Bouchard. "If enough people stop buying products that harm and more that help, things are going to change and GreenShopper is going to be a part of that."
Businesses of all sizes in the Granite State can benefit from adopting environmentally preferable standards and practices. Here on NHBR's new page, 'Going Green,' we'll look at innovative and cutting-edge initiatives as well as common-sense, easy-to-adopt practices that not only can benefit the environment, but the bottom line as well.