Easter Seals program helps N.H. 'get there from here'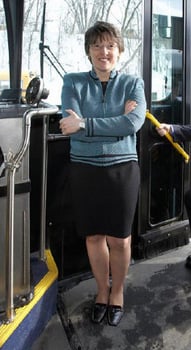 When you think of the Easter Seals of New Hampshire, you probably don't conjure up images of a transportation call center helping residents to find their way through the state's infrastructure.
But with perhaps what is the most comprehensive and sophisticated transportation program in the state, Easter Seals hopes to coordinate statewide transportation services for those who need them.
The Transportation Resource and Access Coordination initiative, or TRAC, is a centralized transportation brokerage that connects riders with transportation providers, such as buses, taxis or paratransit services. With one call, Granite Staters can be connected with a transportation option that is cost-effective and efficient, and also one that meets the special needs of those who are disabled, who do not have their own transportation or who otherwise cannot drive.
"Transportation has actually been a critical issue for Easter Seals for a long time," said Fred Roberge, vice president of transportation for the nonprofit organization. "[Easter Seals Senior Vice President and Chief Operating Officer] Chris McMahon really got it off the ball with launching the 'Getting There' initiative."
"Getting There" is a statewide program bringing together citizens, transportation providers, social service agencies, businesses, planners and government representatives to help address some of New Hampshire's transportation problems.
Working closely with such groups as the state Department of Transportation, the Department of Health and Human Services and even rental car companies, TRAC is the outcome of many of these collaborative discussions.
"There was a need for integration, planning and a new way of providing access to transportation, especially for those who can't drive," said Roberge.
Accessibility puzzle
A small, independent transportation agency merged with Easter Seals New Hampshire in 1983 and became its transportation arm. Today, it has over 150 staff, 100 vehicles and provides some 400,000 trips each year.
Taking what is provided in transportation services a step further, TRAC brings together even more pieces in New Hampshire's accessibility puzzle with the creation of a centralized call center in Concord — set to open July 1 — that will field requests for transportation from across the state and the region.
"This will create new opportunities with private business, new partnerships and marketing, through the delivery of services, and bring in new revenue," said Roberge.
TRAC is unique from other transportation services in several ways.
First, staff at the call center will be trained to fit the transportation — and the fee — to the individual.
"It takes an understanding to know what kinds of funding are available," said Roberge. "Do they need a private ambulance or just a wheelchair car? Fees are really based on the request."
Mickey McIver, TRAC's program director, said, "The intake coordinator will be able to determine if there is a subsidizing agency, such as Medicaid, that can pick up the trip cost and will find out if the ride will be free or paid partially or fully by the rider."
Nor are the services limited to Easter Seal New Hampshire's traditional clients — they are available to anyone.
"Even if it's just a limo ride to the prom," added Roberge, making TRAC an option for summer "Air Quality Action" days or those looking to reduce gas expenses as well.
The statewide program also serves communities far beyond southern New Hampshire.
For instance, Easter Seals has partnered with Enterprise Rent-A-Car in Littleton as one of its vendors in the North Country.
Easter Seals New Hampshire also is the organization's headquarters for not only the Granite State, but Vermont, Maine, New York and Rhode Island, increasing the service area — and service providers — dramatically.
Currently the TRAC program provides some 12,000 rides a month, but Roberge expects that to increase when the call center opens.
"Efficiency and capacity are created by coordinating as many funding sources and transportation services as possible," he said.
Those funding sources include a $75,000 donation over a year and a half from Citizens Bank, a $25,000 donation from the New Hampshire Charitable Foundation and smaller grants from Lincoln Financial and Enterprise. Concord 20/20, the capital city's 20-year outlook planning organization, and United Way also provided some seed money.
"Our goal is to make TRAC self-sustainable, and to be able to make reinvestments in the program," said Roberge, adding: "I think TRAC will be very successful over the next year or two. It will play a critical roll in a rural state without resources in many areas. TRAC will take the present capacity and create business opportunities and meet a critical need."
For more information on the TRAC program or to schedule transportation, contact program director Mickey McIver at 603-606-3113.