Drivers' loss turns into city's gain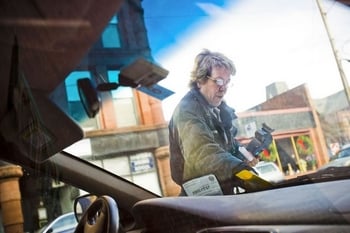 NASHUA – So, you return to your car after shopping downtown and find one of those hunter-orange parking tickets stuck under your windshield wiper.
After the requisite cursing and stomping, you eventually get around to paying the $10 fine. As you drop the ticket in the mailbox or stand in line at City Hall, the thought hits you:
I bet the city collects a bundle of these. What happens to all that money?
And what about all the scofflaws who blow off tickets without paying?
First, a lot of the money collected stays "in house," in that it pays for the parking enforcement officers' salaries, plus vehicle costs and supplies. Money left over gets kicked into the city budget's general fund, according to Dave Fredette, city treasurer and tax collector.
How much money tickets generate is quite a bit, although both the number of tickets issued and the amount of money collected have been declining.
In a four-year period stretching from fiscal 2005 to 2008, the city issued 123,114 nonmoving traffic violation tickets, according to city statistics. Of that total, 8,521 tickets, or 6.9 percent, were voided for one reason or another, leaving a net of 114,593.
Fines collected over those four years totaled nearly $2.66 million.
A fiscal year runs from July 1-June 30. Currently, the city is almost midway through the 2009 fiscal year.
However, over the last four years, the numbers have fallen. In fiscal 2008, for example, the city issued 25,509 tickets and collected $591,805. Both numbers were down from the 35,172 tickets issued and $700,376 collected in fiscal 2005.
Despite the consistent decrease, Fredette anticipates that after traffic enforcement money is deducted, the city will have between $300,000 and $350,000 available for the general fund this year.
Officers Aline Kenney and Jennifer Bartlett of the parking enforcement division attribute the decline in tickets to two reasons.
One is that fines have risen over the years, from $3 to $10 in the case of expired meters. If you have to shell out 10 bucks, you're more likely to feed quarters into meters, they say. And if the money isn't paid in seven days, the fine doubles to $20.
The second reason for the decline is that Bartlett and Kenney have stepped up their patrols, they say. Motorists have become accustomed to seeing them downtown, and they often visit busy lots and areas more than once over the course of a shift.
That makes motorists wary of allowing a meter to expire, the officers believe.
Voiding a ticket can only be done by police or the courts, Fredette said. A common reason for voiding a ticket is a broken meter, and sometimes motorists will successfully argue they shouldn't have received a ticket for, say, an overnight parking ban, because they weren't aware they had parked illegally, he said.
Ticket trend
All-night parking is the second most common reason for being ticketed. The fine is $25, which increases to $35 if unpaid after seven days.
Third is leaving a vehicle in a no-parking zone, which brings a $10 fine. Next is parking in a reserved space, followed by parking "left wheel to curb" – facing the wrong way. Both also bring $10 fines.
The most expensive violations are street parking during a snow emergency and parking in a handicap space. Both result in $200 fines. Next is parking in a fire lane, which will cost you $100.
Parking too close to a fire hydrant and obstructing a sidewalk or driveway each nets a $50 fine. Parking within 25 feet of a corner results in a $25 ticket, and parking for too long in a time-restricted area costs the same as an expired meter – $10.
As for those who ignore their tickets, the city has something to hold over motorists' heads to make sure they pay: vehicle registrations.
If you have an outstanding ticket, you can't register your car until it's paid.
Also, Nashua shares information about tickets with six communities: Litchfield, Manchester, Hudson, Amherst, Merrimack and Hollis. That means if you have an unpaid ticket in Nashua, you have to square up before you can register your car in those towns.
And vice versa.
"We've been giving that information for quite a few years, and it works pretty well," Fredette said.
If you owe $200 or more in unpaid tickets, your car will be towed if police find your vehicle and run a check on your plate. The towing fee is $145.
About 15 percent of the biggest offenders are from out of state.
"Those are very hard to collect," Fredette said.
Citing state law that protects the privacy of motor vehicle records, Fredette said the city wouldn't release the names of violators who owe the city for unpaid tickets. The N.H. Driver Privacy Act makes those records confidential, he said.
However, Fredette did say there are more than 600 outstanding tickets at any given time.