Drivers line up for $1.99 a gallon gas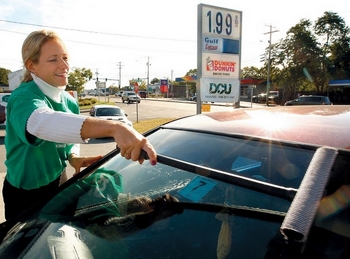 NASHUA – Ever so briefly, hundreds of people forgot about a faltering global economy and their shrinking wallets as they happily filled their gas tanks.
It's not often people smile while paying the pump, but for six hours Wednesday, the Gulf station on Broad Street offered regular-unleaded gasoline for $1.99 a gallon.
The promotion, sponsored by Digital Federal Credit Union, was so welcomed that motorists waited as long as an hour just to feel like it was 2005 all over again.
"The last time I saw this was a long time ago," Nashua resident Bob Warner said after spending $62 to fill his Ford F-150 truck, a routine that he said usually costs almost twice as much.
Warner was one of hundreds of motorists who patiently idled their vehicles just for a crack at a savings. The promotion ran from 7 a.m.-1 p.m., and drew a steady stream of cars, SUVs and vans to the very end.
Want more photos?
Vehicles stretched back as far as St. Stanislaus Hall on Pine Hill Road and snaked over to Blue Hill Avenue before dumping into the gas station parking lot.
Five off-duty Nashua police officers worked traffic detail, earning $43.31 an hour at the expense of the credit union, for the six-hour special. With a team of credit union employees arranging lines at the pumps, police kept traffic moving and away from passing vehicles.
Nashua resident Michael Gilbert had nothing to do, so he didn't mind waiting 50 minutes.
"I hope it will stay that way," Gilbert said of the $1.99 sign by his side. "Why can't it stay that way?"
It would take more than this news story to explain why gas prices can't always be this low. But for many people who waited to save as little as five dollars or as much as sixty bucks, explanations weren't necessary. They didn't want to look a gift horse in the mouth.
The credit union, also known as DCU, spent about $20,000 on the promotion, covering the cost difference in gas with the Gulf station and other event expenses like doggie biscuits, spokesman John LaHair said.
Gasoline last regularly sold for $1.99 a gallon in 2005, LaHair and industry sources said. Once the promotion ended, regular gas would return to its normal price of $3.39 a gallon, station co-owner Dave Gallucci said.
Gallucci and his brother, Andrew, filled their underground tanks with 20,000 gallons of gasoline for the special. They own the Mobil station across the street, where hardly a car stopped, but they didn't seem to mind at all.
For DCU, the cost of a mail campaign costs roughly the same as the $20,000 promotion, so the credit union figured it more efficient to thank the community for its business in a direct way, LaHair said.
"If they can take this savings and buy extra groceries, and consider DCU as their financial institution, then it's worth it," he said.
Several motorists said they already had DCU accounts; others said they'd consider joining.
Many motorists wished they had learned of the promotion sooner, so they could have burned some gas first. They pulled into the station with tanks that were already half-full.
Nashua resident Marc Soto's pickup already had three-quarters of a tank, but he didn't mind the long line to pay $20 to top it off.
"These prices – they should be at this all the time instead of everyone getting banked," Soto said.
"Banked" is slang for "getting hit." And that's what Soto and other customers said they believe that the oil industry and government does to them most every day with high gas prices.
Others only wanted to think of what they would save with the deal.
Merrimack resident Judy Parkhurst said she kept $40 after filling her Dodge Super 8 Hemi truck. She planned on taking her Chrysler 300M to another gas station, where the savings from Gulf would pay for the second round of gasoline.
Nashua resident Sherm Sewell waited in line twice, filling his family's two Hondas separately. He estimated a $33 total savings, but hadn't quite thought about what he'd do with this newfound money.
While glad to be paying $1.99 for each gallon that dropped into her truck, Hudson resident Cindy Murphy said that a savings in gas is almost negligible when considering the high cost of living.
"It's not extra," she said. "It's a negative."