Downtown group adds members despite recession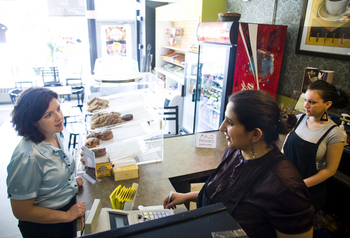 Recession, like necessity, is a mother of invention, and many merchants have turned creative in response to the souring economy, according to the head of an organization that promotes downtown businesses.
"It's really what's happening down here. Not only with our organization getting creative, but all the businesses. They're staying pretty aggressive and getting creative, putting on more promotions – just trying very hard," said Sue Butler, executive director of Great American Downtown.
"They're still spending money because they realize they need to," Butler said.
Downtown merchants are
tak taking such traditional steps as advertising in newspapers and on the radio, as well as "keeping our office in the loop of what's going on so we can keep our Web site calendar updated," she said.
"There are still people out there with money spending money. I think that our merchants know that. And there will also be a time when our economy rights itself. People (potential customers) are going to be back in full force, and (merchants) want to be ready for them."
Additionally, many merchants have turned to such 21st-century tactics as "staying on top of their Web sites, and utilizing social media like Facebook and Twitter," Butler said.
Businesses are setting up fan pages and using social media to post sales through such promotions as "come in tonight, mention you saw this on Facebook, and get 20 percent off," Butler said.
"They're trying to tap into that network of people who already said they're interested in hearing about the business," she said.
Established seven years ago, Great American Downtown, or GAD, was formed to promote and market the downtown area. It sponsors such annual events as the Winter Holiday Stroll, Taste of Downtown Nashua, Spring Feast Week and the Farmers Market.
Like the merchants it represents, GAD also has faced challenges posed by the recession, Butler said.
"Our goals are still exactly the same. We're having to be a bit more aggressive and try some new avenues when it comes to recruiting for sponsorships," she said.
Signing on businesses to sponsor downtown's four major events has become more difficult, with some businesses telling Butler they've cut all sponsorships from their budgets. "That's where it really hit a bit of a wall. People are still being very generous, but it's much more of a challenge," she said.
Butler adds, "Many of our sponsors have continued to fund us at the same levels, so we've been very pleased."
Possibly because hard times have made merchants more aware of the need for marketing and promotion, GAD membership has risen, with more businesses willing to pay the $250 annual dues, Butler said.
"Membership has gone up. I think we've proven to our members that we really are here for them, that what we do with the events, the marketing, everything that we do down here, is to try to make downtown more vibrant, to bring in more business. With their support, they know we can do more for them," she said.
GAD's funding comes from three sources: merchant contributions, $40,000 that the city has provided each year and money raised off the four downtown events.
The biggest of the events, the Winter Holiday Stroll, brings thousands of people downtown, and this year for the first time turned a profit for GAD. The organization now is considering whether to add a fifth event.
"Whenever we're putting something on, we're thinking, OK, is this going to block parking for someone, is this going to help bring people into their store that night? Well, if it doesn't bring them into the store that night, will they come back in a week?" Butler said.
"In planning for any event, we're always thinking about those things. I think that's what sets up apart from other event-planning groups."
The Taste of Downtown Nashua is an example of how an event can work as a "cross promotion," Butler said.
"It's not a night when there are very many sales made. But when you take an average of 500 people and put them into a retail location on a night, that can't hurt a business," she said.
The Taste helps "exposes 500 people to a business that maybe they'd never been in before, they didn't know existed down here or maybe they haven't been in it for a year or two. So it's a great way to remind people," she said.
GAD now is moving forward on creative a special downtown district in which services would be paid through a tax levied on property owners. Manchester, for example, has such a Business Improvement District.
"We just recently had a meeting with some of our largest property owners," Butler said.
As a guest speaker, GAD brought in Dick Anagnost, a Manchester developer who also is part-owner of the Manchester Wolves minor league football team. Among the 30 or so people who attended the meeting, were 15 of downtown Nashua's largest property owners, Butler said.
In a survey about creating a special downtown district in Nashua, many property owners cited as priorities the role the district could have in marketing and beautifying the downtown. Anagnost noted the district would also help with zoning and parking issues and fire codes – things for which you need a large group to represent everyone, Butler said.
GAD hopes to discuss the district later this month at a brown-bag lunch in conjunction with the Greater Nashua Chamber of Commerce.
After that, GAD would draw up a budget and contract to present to the board of aldermen, which must approve the district.
The district would stretch from the Hunt Memorial Building south along Main Street to the Hunt Retirement Community, and roughly two blocks east and west.
But the district would meander around homes and duplexes – only residential properties with four or more units would be taxed as part of the district.
The district also would include the Millyard because of the potential development the Broad Street Parkway might bring, Butler said.
Within the district, the taxes collected would pay for keeping the sidewalks clear in winter and plowing snow from around the parking meters, as well as litter removal and other beautification efforts and marketing and promoting the downtown, Butler noted.
"What's important to understand about the (Business Improvement District) is that it's a long-term solution to keeping downtown vibrant," Butler said.
"It's getting everybody contributing to keeping downtown vibrant. When you have all the properties sharing the responsibility, the (financial) impact is so much smaller and we can accomplish so much more," she said.
"Overall, it benefits the entire community," Butler said.