Downtown crash sends 2 to hospital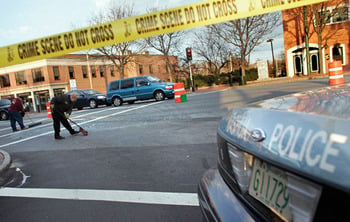 NASHUA – Two people were transported to local hospitals following a Thanksgiving Day accident that shut down portions of Main and Water streets.
Police declined to say if the motorists suffered life-threatening injuries.
The crash near the intersection of the two streets occurred about 9:50 a.m., police said. The east end of Water Street remained closed as late as 4 p.m. while a Nashua Police Department accident reconstruction team worked the scene.
One of the vehicles was a taxicab from the SK Taxi company, headquartered on High Street. The other was a maroon Plymouth Grand Voyager minivan.
An SK Taxi dispatcher confirmed that a driver from the cab company was involved in the crash. The company's owner wasn't available Thursday night for comment.
The minivan and taxicab remained at the scene late Thursday afternoon before both were towed away. The minivan showed extensive damage to its rear, while the front of the taxicab was smashed.
Yellow police tape blocked off Water Street for most of the day, stopping both vehicle traffic and pedestrians from using the sidewalk on a portion of the west side of Main Street.
Broken glass that littered the intersection wasn't removed until the accident reconstruction team left the scene about 4 p.m.