Downtown businesses aim to draw shoppers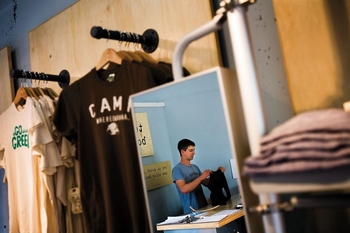 NASHUA – With the biggest shopping season of the year approaching and the economy continuing to slide, downtown businesses are focusing on ways to boost profits.
"We need to get creative to stay competitive in this very tight economy," said Sue Butler, executive director of Great American Downtown.
Representatives of many businesses joined Wednesday for a breakfast meeting and seminar on how to separate themselves from the big box stores and draw customers to downtown Nashua.
The seminar was led by Sy Mahfuz, president of Persian Rug Galleries on Main Street and a motivational speaker for the retail and wholesale industries.
Mahfuz described the customer service pillars his father instilled in him from childhood: return every phone call; know the product; make a personal connection with every customer."It gives us that touch of magic that big guys who focus on price don't have," Mahfuz said.
It's also what has allowed a company that sells luxury items to stay in business for so many decades.
"We've been here since 1953, and there's been about five downturns in the economy, and we're still here," he said.
The seminar was hosted by the Greater Nashua Chamber of Commerce, Great American Downtown and Triangle Credit Union, which just opened a branch on Main Street.
Chamber President Chris Williams said the idea stemmed from discussions about the state of the economy and it's potential impacts on the busiest season for downtown shops.
"What does the situation on Wall Street and in Washington mean to the holiday season?" Williams said.
So the decision was made to talk about how the downtown businesses could put their "best face forward" despite the economy, he said.
Tyler Gauthier, owner of Tee Shirt Bodega on Main Street, said he thinks it's only natural for a small-business owner to have some concerns anytime the economy takes a downward swing.
But working together to promote each other's businesses is one of the best things the downtown community can do to market themselves at a time like this, he said.
Reached after the breakfast, Gauthier said he has noticed a slight decrease in the number of shoppers downtown, but nothing tremendous.
"I think we'll get through this," he said.
Marylou Blaisdell, owner of DesignWares, a shop on Main Street that sells handmade jewelry and art, helped organize the event.
"For me personally, I just try to really concentrate on customer service. We do things that a major department store doesn't do," she said, when reached after the event.
Blaisdell also said it is important to stress the uniqueness of downtown businesses and their products.
"You're watching your dollar?" she said. "We have a real value for your dollar."