Don't forget to vote on Tuesday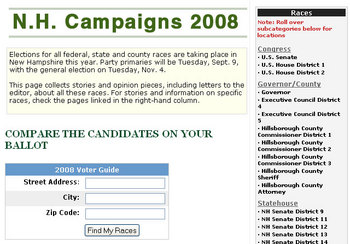 The primary election is Tuedsay, featuring a huge crowd of people seeking their party's nomination for a huge crowd of seats. If you haven't made up your mind yet – quick, what are your thoughts on the Hillsborough County Registrar of Deeds? – you'll want to check the Telegraph's Online Voter Guide.
The guide lets you see information about candidates who will be on your ballot because you start by filling in your address, so you don't have to wade through candidates who are only running in other towns. Scores of people, particularly those seeking minor offices that usually get overlooked, have uploaded information about themselves and their issues, for your perusal. You can even print out a sample ballot to take into the voting booth.