Donation allows Merrimack girl with cerebral palsy to get specialized trike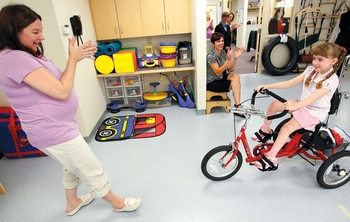 Rachel Caliguiri grabs on to her two crutches and slowly begins to ascend the inclining aerobic mat. As she gets further and further up the slope, her physical therapists become more and more proud.
Sure as the sunrise, Rachel makes it to the top, turns around, and begins her descent back down.
Eventually she finishes all of her exercises for the day and takes the chance to catch her breath and rest her legs. But before she could get too much of a break, her physical therapists let her know they have a surprise for her.
JoAnn Moriarty-Baron and Tynna Owen begin to cry as they pull back a curtain being used to split the room in half.
The 8-year-old girl who suffers from cerebral palsy is speechless as she sees her dream – a shiny, red bicycle of her own.
"We don't know who gave the bike to her," said Kathy Pierce, director of Rehab Services for Southern New Hampshire Medical Services. "We just received a phone call and it said that someone had made a donation and she would be getting a bike."
But this wasn't your typical bike. It was a therapeutic tricycle, which had been specially fitted to Rachel in May at the Northeast Rehabilitation Hospital in Nashua.
"I really like it a lot and I am surprised," said Rachel, 8, of Merrimack.
But despite being fitted for her own specialized bicycle, the cost, from $250 to $500, was unaffordable. So putting her faith in miracles, Rachel's family placed her bike on the AmTryke wish list.
The wish list, run by the nonprofit group National AMBUCS, takes the names and photos of each child in need of a bicycle and puts them on a Web site. From there, people can search through each child's profile and choose which child they would like to purchase a bike for.
From there, Rachel's name was chosen.
"It was emotional," said Patti Girouard, Rachel's grandparent and caregiver. "The bike is something she has always wanted and never had. To be (almost) 9 years old and get her first bike is amazing."
Her AmTryke looks like a normal bicycle except it has two back wheels. The bike also has straps on the pedals and seat, and a basket in the back to accommodate Rachel's dog, Ginger.
"All these features on the bike that allow her to be successful also allow her to be a kid and be able to do kid things," Moriarty-Baron said. "She has worked exceptionally hard to do things that people take for granted."
And the hard work is beginning to pay off.
Three years ago, Rachel first began treatment at the Pediatric Rehab Center in Hudson. She had trouble sitting up, rolling over, and went to school with either a posterior walker or a wheelchair. She was also getting botox shots in her legs to increase her muscle capacity.
Now, through treatment and physical therapy, Rachel uses only two crutches to get around and is working towards only using one.
"She has already surpassed the expectations that a lot of people had for her," said Moriarty-Baron. "The world is truly her oyster."
Much of her support system has come from Moriarty-Baron and Owen. Although they are paid to help her improve in every way possible, neither one of them is required to be her friend or care for her as much as they do.
"It is exactly what she always wanted," Owen said. "I am just really excited for her because she is such a great kid."
"Her smile really lights up every single room that she comes into," Moriarty-Baron said.
"I have worked with Rachel for three years," Moriarty-Baron said. "And everyday she gives 110 percent. She really is an inspiration to people."
More Photos?
Once she got on her new bike Tuesday, Rachel refused to get off it.
Despite hours of physical therapy before getting her bike, she continued to ride it all around the room for another hour after she received her surprise.
"It is a wonderful feeling seeing a child ride a bike who otherwise wouldn't have been able to," Pierce said. "I love seeing someone who has worked so hard get rewarded."
The bike has an added bonus: It is therapeutic, meaning doctors are hoping the bike will help strengthen Rachel's legs and allow her to eventually complete her goal.
"Her goal is to be able to walk to the school bus and take it to school like any other third-grader," Moriarty-Baron said.
And thanks to the help of the anonymous donor, she may soon be walking to that bus stop.
"We don't know who donated it, but we want to thank them," Owen said. "We are really happy that they did because it made some little girl's dream come true."