Donated sculpture dedicated for Elm St. Middle School lawn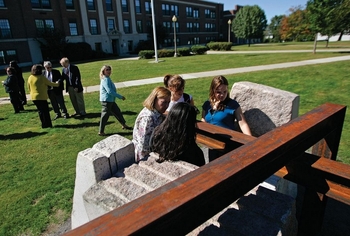 NASHUA – About three weeks ago, Elm Street Middle School eighth-grader Wayne Saya forgot a sweatshirt in his locker and missed the bus. Walking out the front entrance to wait for his ride, Saya was startled by a new addition to the spacious lawn.
At first sight, it was a pile of rocks and steel.
"I thought they were doing construction or something," Saya said.
But with a second look, Saya figured out that it was a sculpture. More specifically, he saw Vaclav Fiala's "For Frank Lloyd Wright," a piece that was recently given to the school by the City Arts Nashua organization.
Saya initially questioned how that could be art, but classroom discussions and a study of Fiala's inspiration gave him a better understanding and appreciation of the project.
"I didn't realize how it could be a sculpture," Saya admitted, "but now I do; it's pretty cool."
On Thursday afternoon, the Elm Street Middle School hosted a dedication on the school's front lawn.
The sculpture, which Fiala worked on while he was in Nashua at the first International Sculpture Symposium in May, was dedicated in memory of Robert "Robie" Goyette, the son of local art patrons Charles and Mari Goyette and an Elm Street Middle School alum.
Fiala, a native of the Czech Republic, modeled the piece after American architect Frank Lloyd Wright's work.
Sabrina Subran, an eighth-grader at Elm Street, feels honored to have the sculpture right outside her school.
"I think it's pretty cool," Subran said. "I mean there are so many other places in the city but to have it here is really special."
Mayor Donnalee Lozeau, who attended Elm Street when it was a high school, explained that Fiala insisted on placing the sculpture on the school lawn.
"To see (the sculpture) on the lawn makes you appreciate the opportunity," Lozeau said during a brief speech. "(Fiala) was very excited about this spot. He wanted (the community) to truly enjoy it."
Elm Street Principal Colette Valade said the sculpture already has widespread impact in classrooms.
"We've been given a wonderful opportunity," Valade said. "This work has engaged our community (at Elm Street). It has provoked aspects of learning such as critical thinking and taught us how to be tolerant of creativity and individuality."
According to Janet Moran, an Elm Street art teacher, Fiala's sculpture has been a springboard for discussion and exploration in her classes.
"I think (the sculpture is) a great conversation piece," said Moran, who has been at the school for nine years. "We've had a lot of discussions about it. It's been a great opportunity to bring art to the forefront and open doors for kids."
For Daniella Gamba, an Elm Street eighth-grader and aspiring artist, "For Frank Lloyd Wright" is the ultimate teaching tool.
"It really helps you learn," Gamba said. "To actually see the thing we're talking about in class right outside is cool."
After being coaxed by their teacher, Saya, Surban and Gamba were even able to discuss artistic elements of the piece. Sounding like seasoned art critics, they talked about Fiala's use of shapes and the way the light creates shadows of the structure.
There was one question that stumped the students, though: What does the sculpture mean?
"Uh . . . I mean it's art," Saya said, letting out a laugh.
"I guess it's kinda . . . it's like . . . that's kind of a tough question," Surban said, sounding equally puzzled.
"Well, I guess that shows that art can mean anything," Gamba reasoned.
Moran has been encouraged by her students' response to the sculpture and hopes that there will be more to come.
"We'd love to have more art on the lawn," Moran said. "It makes it so neat to teach from."
Mayor Lozeau joked that the space is not an issue.
"You've got a big lawn here," she said, "so there might be more (art) in your future."