Do the early students get the athletics?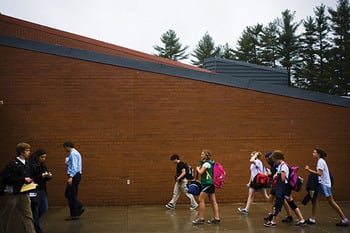 Believe it or not, Kris Ezquelle's eighth-grade daughter doesn't want school to start later.
"She says that the later school opens, the later her sports start, the later she gets to start her homework," said Ezquelle, a local social worker whose daughter Emy attends Amherst Middle School.
As the Souhegan Cooperative School Board considers a later opening bell at the high school and middle school, some in the athletic community are worried that the hassle would outscore the benefits.
In the spring, the school board assembled an exploratory committee to investigate the logistics of a later start time, according to Souhegan High School Principal Scott Prescott.
Prescott said that student research actually initiated the discussion. Seniors at Souhegan are required to choose and research a topic as a senior project, and part of that process includes presenting their findings to those outside the classroom. Prescott said that at least every other year, a student presents research about sleep deprivation among adolescents.
"The benefits are that research out there shows that adolescents are sleep deprived, their studies suffer, and they're not as alert in school," Prescott said.
With the pros, there are the cons. Prescott said all schools in the Souhegan Cooperative use the same buses, which makes it impossible to change one time without affecting the others.
"We share buses, so it would require a change of other school start times, so we couldn't do it independently," Prescott said.
Tyler Raab, a sophomore on the Souhegan ski team, says the team travels to practice twice a week and then races on Saturdays. Raab said that, as winter approaches, it will get darker sooner, which limits the team's practice time. He works on the weekends and worries that later school hours would push games and practices to the weekends.
"I wouldn't want sports to be my entire weekend," he said. "And, plus, I need a social life away from school. There are positives and negatives to the whole thing."
Kathleen Malloy, a three-sport sophomore, said the later start could help her, especially after her 9 p.m. weekday hockey practices.
"Yeah, 6:30 a.m. is pretty early in the morning," she said with a sigh. "It is really tough to get up in the morning."
Patrick Corbin, executive director of the New Hampshire Interscholastic Athletic Association, said a later start would create a scheduling challenge for athletics administrators.
"If you get one school that starts at 9 a.m., it's certainly going to impact their ability to participate in certain sports, especially those that require us to beat the daylight," said Corbin, who took over the NHIAA in April 2006.
Corbin, who was the principal at Nashua High School North when the school committee considered a similar schedule change, noted that Souhegan is a Class I school, which requires its teams to travel to schools such as Hanover, Dover, Exeter and Laconia and could adversely affect academics.
"For them to participate, in a lot of sports, kids would have to be dismissed," he said. "Now you've got students missing instructional time. It would definitely create scheduling difficulties for some sports."
Corbin said other parts of the country have effectively pushed back school times without conflicting with athletics, citing the St. Paul, Minn., region. However, in successful transitions, entire divisions or conferences have changed school schedules together, he said.
Souhegan High and Amherst Middle School parents have been encouraged to fill out an online survey that aims to provide the exploratory committee with more feedback on the issue.
Prescott said the exploratory committee is expected to present its recommendation to the board later this school year.
"There are definitely pros and cons in the system," Prescott said. "So much is driven by personal schedules that it gets tricky, so I really don't know what's going to happen with it."
Corbin hopes the Souhegan community keeps athletics in mind when a decision is made.
"It comes down to what is best from an instructional standpoint," Corbin said. They need to certainly consider interscholastic athletics, because it is an important program."