District 9 race pits freshman against 24-year veteran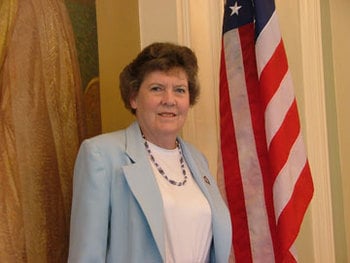 EDITOR'S NOTE: This is one in a series of stories appearing before the Nov. 4 election that will examine state and county races.
When a one-term state representative takes on the longest-serving state senator in New Hampshire, the odds would appear to be long.
But that doesn't worry Democrat Mike Kaelin, of Lyndeborough, who is challenging Republican Sheila Roberge, of Bedford, in District 9.
"We've had Sheila as our senator for 24 years, and I've lived here for 14 of those years and she doesn't do anything," Kaelin said during a recent interview. "She puts in her one or two bills for animal rights every year and other than that, she doesn't do anything (but) sign her name to a lot of people's bills."
Not surprisingly, Roberge – first elected to the 24-member Senate in 1984 – has a vastly different picture. She says that being elected to the Senate 12 times is proof that she's in touch with voters and that they appreciate what she does for them.
"I have a long voting record," she said in an interview. "I've been consistent and that's important."
That record includes stands against broad-based taxes, although Roberge says she is close to being convinced that an income tax is at least a possibility, despite her opposition, particularly if state spending continues to increase.
"There might be enough votes" in the next legislative session to pass an income tax, which she opposes, but she is sure there is little, if any, chance of a state sales tax.
"People in the border towns (of New Hampshire) get business from out of state, and won't support" a sales tax, Roberge said.
Kaelin agreed. "I would be opposed to any kind of a sales tax. I think that would put the state at a disadvantage. But maybe we have to consider other taxes," he said.
Senate District 9 represents Mont Vernon, Lyndeborough, Bedford, Merrimack, New Boston and Greenfield.
Kaelin was elected to the state House of Representatives in the Democratic sweep of 2006 to represent Lyndeborough, Wilton, Mont Vernon, Temple and New Boston.
He said that there are three main issues he hopes to tackle in the Senate: energy and the environment, consumer protection and help for small businesses.
"Those are the core of my experience" as an engineer and consultant, he said. "That's what I can be most effective doing in the Senate."
During his two years in the House, he saw five of his bills passed, including HB447, which increases the amount of renewable energy that can be put into the energy grid, and HB1628, which gives a rebate to homeowners who generate renewable power. Kaelin lives off the power grid in his Lyndeborough home, generating electricity from solar panels.
Kaelin, a musician, also introduced a bill to allow musicians playing in bars to have a drink. He said that one is the butt of a lot of jokes, but it was serious because the law against them drinking "was a bludgeon that the enforcement people use on restaurants that displease them."
Roberge is particularly proud of her support for a bill to ban two-handed text messages by drivers. Although it didn't pass, she's hopeful that it will next year.
"When you're operating a piece of machinery as heavy as an automobile, you should keep both hands on the wheel and your mind on what you're doing," she said.
She and Kaelin supported legislation that capped payday loan interest rates.
"The loan rate they were charging was too high," Roberge said, "and they were catering to people who couldn't afford it and would end up in a downward spiral. Those loans are supposed to get somebody through a tough time – from one payday to the next, perhaps – but they were being used too frequently and people got themselves in too deep."
Kaelin said his support for the payday loan bill – he was one of three House sponsors – is an indication of his support for consumer protection.
"We need to protect single families and the average person on the street from a collection of corporations, and we can't let corporations do whatever's in their best interests and ignore the interests of the people," he said.
For Roberge, the interests of the people could be better served if state spending were controlled.
"If the spending curve increases, we're in for a broad-based tax," she said. "It's just a matter of time until spending will come to a point where we will have to provide the money only a broad-based tax can bring in."
"I don't think the state has a revenue problem," she said, "but we definitely have a spending problem. And that's probably my priority (in the next Senate session). . . . We don't know where the economy is going so the state needs to take a harder look at costs we can control."
Kaelin believes his experience as an engineer will be important in the Senate.
"I think the Senate is going to have to deal with a lot of energy issues," he said. "We need long-term solutions to our energy problems," and he mentioned public transportation, helping businesses develop more renewable and cleaner energy sources and helping people to insulate their homes.
Roberge agrees that experience – particularly hers – is important in the Senate. She said that a bill can be defeated several times because legislators don't fully understand it but may eventually pass if senators stick with it.
But a major plus for her, she believes, is her response to constituents.
"They can call me," she said. "I'm available by phone and mail, and I do encourage them to do that."
MIKE KAELIN
OFFICE SOUGHT: State Senate District 9.
AGE: 50.
ADDRESS: 105 Curtis Brook Road, Lyndeborough.
YEARS OF RESIDENCE: 14.
POLITICAL BACKGROUND: State representative, 2007-08.
OCCUPATION: Electrical Engineering Design Consultant Kaelin Consulting.
EDUCATION: BSEE, MengEE, University of Louisville; MBA, Southern New Hampshire University; fluent in German.
AFFILIATIONS: None.
MILITARY: None.
PERSONAL: Single.
WEB SITE: www.kaelin.net.
SHEILA ROBERGE
OFFICE SOUGHT: State Senate District 9.
AGE: Not given.
ADDRESS: 83 Olde Lantern Road, Bedford.
YEARS OF RESIDENCE: New Hampshire native.
POLITICAL BACKGROUND: State senator, 1984-present. Active in the Reagan-Bush campaigns in 1980 and 1984, serving as assistant coordinator for the Northeast both years and state coordinator in 1984.
OCCUPATION: Full-time state senator.
EDUCATION: Attended St. Anselm College, Manchester.
AFFILIATIONS: None.
MILITARY: None.
PERSONAL: Widow; two children.
WEB SITE: www.gencourt.state.nh.us/senate/members/senate09.asp.