Developer's plan for St. Stan's hall rankles neighbors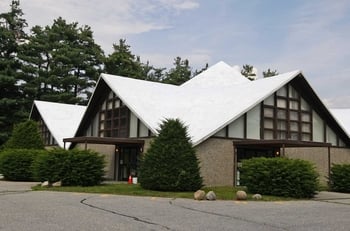 NASHUA – If a cash-strapped developer manages to replace a Pine Hill Road church hall with two apartment buildings, it will not be without a fight.
"I think you're going to see a lot of people showing up at the next zoning board of adjustment meeting, if there even is one," said city resident Robert Sullivan. "Let's get ready to rumble."
Vatche Manoukian wants to demolish the St. Stanislaus church hall, located on a 4-acre parcel on Pine Hill Road, to build two multifamily apartment buildings, according to plans submitted to the city's Zoning Board of Adjustment.
A monthly Ward 1 meeting Wednesday night turned into a venting session about the proposal as multiple neighbors spoke out against the plan, pointing out that Manoukian is asking for zoning variances for the project while still owing the city thousands of dollars in back taxes on other properties he owns. "People are a little upset about it," said Sullivan, who lives on nearby Stoney Brook Road. "Especially considering taxes are owed, it seems inappropriate to me that apartment buildings should go in there."
Janet Currier, who lives across the street from the 45 Pine Hill Road property, agreed.
"I don't want it. I think it's a foolish idea," she said.
"I personally would rather see the city take it over and turn it into a neighborhood park for this area. Something nice for this side of the city, I think, would be good."
Another neighbor, Richard Kolb, said adding that many more cars to local roads cannot be a good thing.
"The area is already built up pretty well," he said. "It's zoned residential, and I think that's the what it should stay."
Hours before a Tuesday night ZBA hearing on the project, Manoukian's lawyer, Gerald Prunier, asked to delay the hearing after learning that the Federal Aviation Administration has concerns about the project as it relates to Boire Airfield next door, according to Ward 1 Alderman Mark Cookson.
Failing to provide the FAA with the required information about the project's distance from the airport and the height of two proposed three-story building could result in "severe penalties" against both the city and the developer, according to engineer Richard Maynard.
Cookson said the ZBA would not review the project until the FAA completes its own review. If it is satisfied that the project will not affect flight patterns at the small airport, only then could the ZBA rule.
The meeting was rescheduled for Sept. 22.
Cookson said Prunier was slated to attend the ward meeting, which will be broadcast on Channel 16 this week, but he did not attend.
Manoukian's latest project would require three variances to the zoning ordinance, including one to allow multifamily buildings in the residential zone. Another permit is needed to allow two buildings on the site instead of one, and the third permit to allow three-story buildings instead of the allowed two and a half stories.
The two, three-story buildings would include 52 units for "work force" and middle-income families.
All of those factors are concerning to neighbors, Sullivan said.
"It surprises me that people would even ask for such variances," he said. "It's very surprising."
Manoukian owes thousands of dollars in back taxes on other properties he owns around the city, including about $38,000 on the Pine Hill Road property, according to City Treasurer David Fredette.
Fredette said Manoukian and his bank have been making payments on the delinquent taxes each month.
He is also $31,000 in arrears on a property at 523-525 Broad St., where the Broad Street Country Store and office buildings are located. His bank is also making payments on a $141,000 in taxes on a shopping center at 337 Amherst St., according to Fredette.
Earlier in the year, tax liens worth more than $200,000 were placed on more than 50 properties Manoukian owns in the city.
At the ward meeting, Cookson lamented that the city may have to drop a planning rule that bars delinquent taxpayers from submitting applications for new building projects.
A 2006 opinion from city attorney David Connell has prompted the city's legal department to review whether that ordinance is legal, Fredette said.
At-large alderman Fred Teeboom said at the Ward 1 meeting he is planning to submit an amendment to the ordinance that would remove the tax restriction as it applies to planning applications.