Detective recounts attack during hearing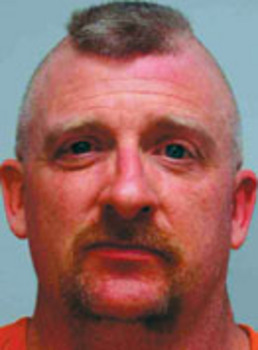 NASHUA – Former Police Chief Clifton "Doug" Largy has not been able to give police a follow-up interview about the beating he suffered last month, as his jaw has been wired shut, one of the lead investigators testified Wednesday.
Largy's son, Eric Largy, 42, is accused of attacking his father April 22 after luring him to his home at 98 Pine Hill Road, binding him to an antique barber chair for nearly 12 hours and beating him repeatedly about the face and head, breaking his jaw and eye socket.
During a probable cause hearing Wednesday in Nashua District Court, Detective Craig Allard recounted what both father and son told police about the incident.
Clifton Largy is expected to fully recover, his brother has said, and police plan to interview him again when he's up to it, Allard said. Clifton Largy served five years as police chief and 30 with the department before retiring in 2000.
Judge Michael Ryan found there was ample evidence to justify Eric Largy's arrest and send the case over to Hillsborough County Superior Court for prosecution. Though he declined to reduce Eric Largy's bail, Ryan changed it from $100,000 cash only to $100,000 cash or bond.
Related Court Documents
The Nashua police prosecutor, attorney Steven Ranfos, argued against any reduction.
"There are extremely serious charges. I can't think of a more egregious case short of a homicide," Ranfos said. "It's been represented to me that the family is absolutely horrified that Mr. Largy is going to be released. They are horrified for their safety."
Eric Largy's lawyer, Laura Brevitz, noted that he is a self-employed, lifelong Nashua resident with no prior criminal record and extensive community ties.
Though she was appointed to represent him just five days earlier, Brevitz said she has heard from numerous people who called to vouch for Eric Largy's good character, his arrest not withstanding.
"These allegations are completely and utterly outside any understanding," of those who know Eric Largy, she said. "He is not a vicious person."
Eric Largy and his father gave dramatically different accounts of the incident, which lasted nearly 12 hours, but police gathered photographs and medical reports showing that the former chief was severely beaten, Allard testified.
Allard's testimony revealed little that hadn't already been disclosed previously in court records.
Questioned by Brevitz, Allard did mention that police went back to search the house a second time, on April 25, after Eric Largy's brother and next-door neighbor Joseph Largy noticed that police hadn't seized a wooden baseball bat that was propped against a wall beside the kitchen door of his brother's house.
Police apparently didn't notice the bat during their first search on April 23, he said, though they did find a wooden paddle under the couch, and a leather sap and sap gloves.
Clifton Largy told investigators that he was struck on the back of the head with a heavy object after turning his back on his son, and then wrestled into the barber chair, and bound with handcuffs and duct tape, Allard said.
Eric Largy said he and his father began fighting after his father poked him in the chest while berating him about a truck with a flat tire in the driveway, Allard said.
Eric Largy admitted that he forcibly restrained his father, dragging him by his throat and binding him to the chair, but claimed he did so in self-defense, Allard said.
Clifton Largy said his son was rambling, "being upset about how he was brought up, things of that nature," Allard said. He said his son hit him repeatedly, and at some point covered him with a blanket or some such thing, and pressed on his eyes with his thumbs or fingers.
"He said his son began to yell at him about his grandson Micky, 'I'm not going to let you do to Micky what you did to me,' things of that nature," Allard said.
"Clifton explained that he was rambling, he couldn't understand everything he was saying," Allard said.
Eric Largy claimed that he and his father spent the day mainly talking, and looking at old photographs, Allard said.
"He claimed that he was willing to take his father to the hospital anytime he wanted, but . . . he wanted to talk to his father, and his father wanted to talk to him," Allard said.
At some point, Clifton Largy said, his son made him call his home in Hampton and leave a message saying that he was all right, Allard said. Eric Largy denied forcing his father to make the call.
Clifton Largy had been expected that morning at Collins Chowder, the business he and his brother run, and family members called both Eric and Clifton Largy repeatedly during the day, Allard said. At one point, in the evening, Clifton Largy was able to get to his phone, and dial his brother, using the speed dial feature, his brother has said.
Eric Largy came to the door when officers approached the house, and asked "What the (expletive) do you want?" Allard said.
After being handcuffed, "Eric Largy began to say something to the effect of 'I tied him up, the bastard got what he deserved . . . . He tortured me for 42 years,' " Allard said.
Police found Clifton Largy still bound to the chair, his face red and swollen, Allard said. Asked who had done it to him, Clifton Largy said, "My son . . . I think he broke my jaw."
Clifton Largy declined an ambulance, and asked police to bring him to Southern New Hampshire Medical Center, Allard said.
Andrew Wolfe can be reached at 594-6410 or awolfe@nashuatelegraph.com.