Despite storm, Meals on Wheels keeps focus on those in need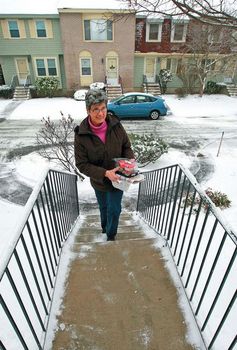 After navigating a tricky hill in the spitting snow Wednesday, Kathy Freitas pulled her car to the side of the road, grabbed two packages from a seat and set out, crunching across a yard in Merrimack.
"I guess we'll just tromp right through here," Freitas said, the house's walkway hidden under a fresh coat of snow.
Five minutes later, Freitas had accomplished her mission: delivering steaming meatballs and noodles, veggies, bread and milk to Ethel, an elderly woman in the house's basement apartment.
"You take care of yourself," Freitas said to Ethel with a smile. "See you tomorrow."
Freitas is one of dozens of Meals on Wheels drivers who have been braving the ice storm aftermath and treacherous weather to make sure homebound seniors are fed and safe.
Such times, including power outages and upcoming storms, are when homebound seniors are in particular need of visitors, said Freitas, who coordinates the Meals on Wheels program in Merrimack.
Few clients have cell phones as a backup if main telephone lines fail, and some need to be reminded of safe heating practices, said Charlotte Troddyn, who manages volunteer drivers for the program's 32 communities.
"There's nowhere for them to get help," Troddyn said. "They talk about shelters, but if you're stuck and don't drive and don't have family members, nearby, you're really on your own . . . We find that for most people we visit, the driver is the only person that they see all day long."
Last Friday, the first blackout day, Meals on Wheels – a program of St. Joseph Community Services Inc. – was canceled. But Freitas worked all weekend to get in touch with the 48 Meals on Wheels clients in Merrimack, even though Freitas herself, who lives in Amherst, was without power until Monday.
By the beginning of this week, she'd heard back from all 48. Some were staying with relatives, but others were wondering whether their hot, midday meal would be on its way.
"They were saying, 'We weren't able to shovel our walkway. Are you sure you want to come?'" Freitas recalled. "I told them not to worry. The drivers know how to handle it."
Troddyn said volunteer drivers from across Hillsborough County were "genuinely concerned for the people alone all weekend and what they'd find when they knocked on everyone's door."
Meals were back on track Monday and Tuesday, although some drivers took detours to reach clients, Freitas said.
Wednesday proved doubly tough with the snowfall. In Merrimack, food delivery from a Manchester-based caterer was late, but Freitas and three volunteers pushed on to deliver meals along the town's four routes.
"They always say thank you for showing up and delivering our meals, especially in this bad weather," said volunteer driver Jean Crawford, who lives in Merrimack.
That statement rang true on Freitas' final delivery of the day, as she scampered up a driveway on Daniel Webster Highway and handed off a meal to George, a client who was waiting at the door.
"Bless you," George said. "I didn't think you were going to come today. Thank you."