Despite pleas, bail stays high for teen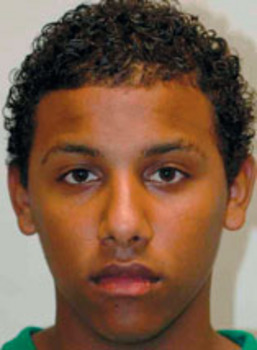 NASHUA – Jeffrey Ramos was not the sort of teen people expected would wind up in shackles, facing felony assault charges, friends and family members said Tuesday.
Ramos, 17, of 75 Lock St., was a conscientious student, and he urged friends to apply themselves in school, too, a Nashua High School North classmate said.
"A great kid," said Maureen Harriman of Massachusetts, who has known Ramos since he was 11 years old. "I think he just got in with the wrong group in the last six months."
"We all know what it's like to be 17," Harriman said. "It's just a shame that it got to this point. . . . Thank God, the other boy didn't die."
Indeed, it could have gone worse.
Ramos and Silvio Torres, 20, of 43 Chestnut St., are accused of opening fire on two other youths after a confrontation on Ash Street, near Kinsley Street, on the night of July 27.
One of them, a 17-year-old identified in court records only as "Raul H.," was shot in the arm and pelvis but survived. The other, Cesar Walteros, 18, of 2 Friar Tuck Lane, was not hit.
Police said the shooting was gang-related: Ramos and Torres are involved with the Trinitarios, while the victim and Walteros are associates of the Folk gang. While shots have been fired in the air and at buildings during other gang-related clashes, it was the first gang-related shooting of a person in recent history in Nashua, police said.
The victim, Raul H., identified Ramos, whom he knew from school, police reported, and Ramos later admitted to police that he had fired four rounds from a revolver toward the two youths but said he meant only to scare them, police said.
To Harriman, Ramos' confession illustrates his innocence as much as his guilt: Being essentially an honest young man, he would have told police the truth, she said.
Torres, in contrast, declined to speak about the shooting. Police found five .40-caliber shell casings at the scene, and one similar unspent round amongst his belongings. Police have yet to recover the guns, however.
On Monday, Torres saw his bail reduced from $100,000 cash to $100,000 cash or bond, after waiving his right to a probable cause hearing. A judge refused to do the same for Ramos on Tuesday, however, leaving his bail at $160,000 cash only.
The charges against both defendants will now be referred to the Hillsborough County attorney's office for further prosecution in superior court. Ramos' lawyer, Adam Bernstein, said he would request another bail hearing in superior court, too.
Bernstein had suggested that Ramos' bail be reduced to $25,000, with electronic monitoring or other restrictions. Ramos has been a solid student at Nashua High School North, even while holding a job at Marshall's, Bernstein said, and his parents, brother and sister all live in Nashua, his lawyer said.
Nashua police prosecutor Steven Ranfos argued the charges were too grave to let Ramos go lightly, however.
"Mr. Ramos is an extreme danger to society," Ranfos said. "His actions alone demonstrate his abilities . . . . He's displayed, your honor, what he is capable of. The actions in this case speak way louder than words."
A group of friends of Ramos who attended the hearing expressed dismay and bewilderment at Judge Michael Ryan's decision to leave his bail unchanged.
"Jeffrey is one of the best kids I know," said one young woman, who declined to give her name.
"Jeff never gets into trouble, he's laid back," another young woman said. "They started problems with him."
Both women claimed that the victim, whom they knew as "Paco," had been pestering Ramos for some time, trying to provoke him.
Both Ramos and Torres face charges of attempted assault and reckless conduct; police have yet to prove which of them fired the rounds that hit the teen.