DES Environmental Leadership Initiative helps, honors businesses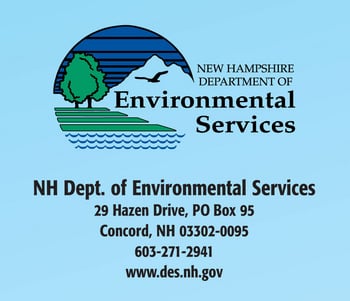 The New Hampshire Department of Environmental Services, through its new Environmental Leadership Initiative, is giving recognition to organizations – private, public and nonprofit – that meet and exceed the legal and regulatory requirements and go beyond those standards to bring positive environmental benefit to the state.
DES offers many assistance programs to help businesses and nonprofits meet their regulatory and environmental obligations and save money doing so. Among these are the Occupation Safety and Health Consultation Program, the Small Business Technical Assistance Program and the Pollution Prevention Program, all of which are strictly non-enforcement programs devoted to helping New Hampshire companies do better. The Environmental Leadership Initiative is the newest addition to these programs.
About 10 years ago, it became clear that some businesses were exceeding the regulatory requirements, and doing far better than the minimum. These organizations were no longer treating "compliance" as an end goal, but as the required minimum standard. Generally, these organizations were using better management methods to obtain this better performance. Some of the management tools being used include "Green Teams," pollution-prevention projects, "kaizen" improvement teams focusing on waste reductions, and full environmental management systems.
DES encourages that sort of behavior because its mission is to improve the environment and the quality of life in New Hampshire. But these are not things DES can legally require. What DES can do is to publicly recognize such organizations. DES is looking to use the "carrot" of recognition in addition to its "stick" of enforcement.
The Environmental Leadership Initiative, or ELI, currently has two tiers that are available to organizations with different circumstances.
The first, Aspiring Leaders, is open to anyone, but it is especially designed for small businesses that want to do better. To qualify, the applicant has to certify that they are in compliance, that they will be proactive in determining what laws and regulations apply to them as well as in preventing pollution, and to doing and reporting on a small number of projects. Applications are accepted any time.
At the time of writing, there are 22 members of Aspiring Leaders. They range from large manufacturers to construction companies, consultancies, and a small bed-and-breakfast. The 22 members have agreed to 49 different projects. The most common projects involve reducing energy and solid waste. Others of note include greenhouse gas reduction, commitments to "green" design and construction, and mentoring others. The first reports of members' progress on their projects are due in May.
Through these projects, DES gets the opportunity to learn how businesses are accomplishing environmental benefit. DES also can build more effective relationships with business sectors of interest, for example, with construction companies. Three construction companies and two of the consultancies that are members of Aspiring Leaders specialize in construction meeting the U.S. Green Business Council's LEED certification. DES both wants to support that kind of work, and to learn more about it.
The second and newer tier of the ELI Initiative is called Green Leaders. This is a more stringent program. A third-party certified Environmental Management System (most commonly an ISO 14001 certification) is required. The applicant also must have an excellent record of compliance, a record of measurable beyondcompliance work, and a record of working with their community. A Green Leader is the kind of organization that is a welcome member of its community and is already a long way toward being fully sustainable.
Members get public recognition of their status in the form of membership certificates or plaques, and positive press from DES. DES also plans to periodically bring the community of members together to allow business-tobusiness contacts and government-business contacts.
Different membership "tiers" are necessary because of the breadth of the type of organizations to which the ELI can apply. Aspiring Leaders was put in place first because DES and its stakeholders recognize that New Hampshire is primarily a place of small businesses. Green Leaders acknowledges more experienced organizations. In the future, DES will establish another tier specific for office-type businesses whose environmental concerns and impacts are fairly predictable. Another tier specific to municipal organizations also is under consideration.
Learn more at www.des.nh.gov.
Bob Minicucci is special projects manager for the New
Hampshire Department of Environmental Services. For
more information about the Environmental Leadership Initiative,
contact him at 603-271-2941, e-mail EnvironmentalLeadership@
des.nh.gov or visit des.nh.gov.