Dem rep hears from workers dissatisfied with conditions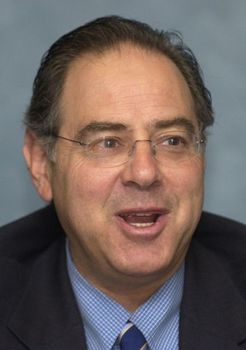 NASHUA – Put a congressman in a room full of dissatisfied, and even angry, people and he's bound to get an earful.
U.S. Rep. Paul Hodes on Tuesday heard from a group of union workers who are dissatisfied with wages, health insurance, a shrinking job market and illegal immigration. The Democrat lawmaker offered solutions and explained his policies, but sometimes all he could do was listen.
The story of Crystal Belanger silenced him and everyone else at the AFL-CIO workers roundtable forum. She described her daily struggle to raise three children, care for her sick father, work a minimum-wage job, and attend GED classes while struggling to pay medical bills for a heart condition.
Belanger, a 25-year-old single mother, commutes from her Nashua home to her Dunkin' Donuts job in Methuen, Mass., to qualify for health insurance for her children. But she has to spend a minimum of $307 a month in medical costs to be eligible for Medicaid coverage, and meeting that out-of-pocket expense leaves little for rent, food and other bills, she said.
>>>N.H. Campaigns 2008<<< Belanger, the only roundtable member who wasn't a union member, said she doesn't want a handout, but rather a shot at what she's entitled to as a worker. She criticized people who "sit around" and collect benefits. "I don't want help," she said. "I don't want people feeling bad for me." Hodes credited Belanger for not giving in and later told her to call his office so his staff could help. The freshman representative attended the event just two weeks before the election. Hodes is trying to keep his seat in a race against Republican Jennifer Horn, a former talk-show host and Telegraph columnist. New Hampshire AFL-CIO hosted the forum to promote what it calls its largest member mobilization to vote for Democratic candidates, including Hodes, fellow U.S. Rep. Carol Shea-Porter, U.S. Senate candidate Jeanne Shaheen and presidential candidate Barack Obama. Aside from pushing the Democratic ticket himself, Hodes expounded on what he and his party hope to accomplish with health insurance, Social Security, taxes and other pocketbook issues. Hodes said Democrats would push for "affordable and portable" health care for all, and a tax structure that helps the middle class and closes loopholes for corporations. When soon-to-retire mail carrier Dick Rolfe asked why federal pensioners couldn't qualify for more in Social Security benefits, Hodes said that an impending money crunch makes giving everyone those benefits "a difficult balance." Rolfe's situation led Hodes to discuss the program's overall future and the difficulty of funding baby boomers' retirements with a smaller work force. Hodes didn't offer any specific remedies, but voiced his opposition to Social Security privatization and called for the need for Congress to examine long-term solutions. Several participants expressed anger at Wall Street CEOs who have taken home multimillion-dollar salaries while taxpayers finance a bailout of that industry. Hodes agreed with them and said he twice voted against the $700 billion bailout bill because it didn't help ordinary mortgage-holders. Even though the bailout money aims to give banks money and to calm the markets, the mortgage foreclosures that led to the crisis must still be handled, Hodes said. If there was any doubt that the foreclosure crisis had yet to hit home, Nashua resident Eunice Barnes told Hodes she can't sell her condominium because no one will pay her a fair price because of the overrun of bad bank loans and the faltering economy. Barnes, a retired teacher, and her husband have medical problems and find it difficult to walk the stairs of their two-story home, she said. She doesn't fault anyone for wanting to buy real estate for lower prices, but she also wants a return on her investment. "We're stuck in no man's land," she said.