Defense: Shot accidentally fired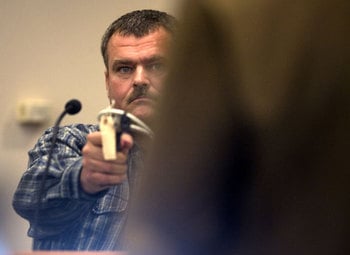 NASHUA – Roger Leveille can't remember putting a bullet in the chamber of his pistol or firing the gun at his brother-in-law, he told a jury Monday.
Rather, Leveille testified that only after their skirmish did he realize that his sister's husband had been shot, an injury that nearly killed Gregory Ellis.
"I believe what happened was an accident," Leveille said during his attorney's direct examination.
"That's what I'd like the jury to believe."
Jurors must now weigh Leveille's account of the Feb. 13 shooting that seriously wounded Ellis.
But they must also consider the prosecutors' charge that Leveille intentionally tried to murder Ellis in their shared Hudson duplex driveway.
Jurors can find Leveille guilty of one of three charges – attempted murder, first-degree assault or second-degree assault – or not guilty. The jury will start deliberating this morning.
In closing arguments, Assistant Hillsborough County Attorney Joseph Fricano told jurors Leveille purposely shot Ellis in anger, and has since changed his story trying to deflect responsibility.
Leveille had been drinking, was mad he lost a fight to Ellis over snowplowing the driveway and couldn't contain his rage, Fricano said. After the shooting, Leveille initially expressed remorse to police at the scene, he said.
"He knew (Ellis) was shot and he knew he was the person who shot him," Fricano said. "He knew, and he regretted it afterward. He knew exactly what happened."
In direct examination and his closing argument, defense attorney Steven Maynard portrayed the shooting as an accident. Leveille drew his gun from his truck only because he feared being further attacked by Ellis, Maynard and Leveille said.
Ellis punched and kicked him and he didn't fight back because of a promise he made to his mother to leave his brother in law alone, Leveille said.
Leveille testified he didn't remember hearing the gun discharge, and that he didn't want to shoot his brother-in-law or hurt him. Maynard later told jurors they have to consider how prosecutors have failed to provide any forensic evidence proving Leveille committed any of the three crimes, including scientific-based testimony on how the bullet lodged in Ellis' neck came from a close-range shot as prosecutors allege.
He also asked why Ellis didn't identify Leveille as the shooter but only told police that night that he had heard a shot.
But Fricano and fellow assistant county attorney Kent Smith attempted to show inconsistencies in Leveille's testimony.
Under direct examination, Leveille said he learned of the shooting only after a police officer told him. But under cross examination, Leveille said he wasn't sure how he found out.
Smith also pressed Leveille on his story of standing on his truck hood and sliding off to the ground, where he supposedly lost control of his gun.
Leveille said he was lying on the hood with the gun in his right hand, but when his footing slipped, he somehow extended his left hand across his body, and grabbed a windshield wiper. Clutching the wiper turned his body around on the hood, and he slid off in a direction opposite of where he had stood.
Later, in closing arguments, Fricano dismissed Leveille's claim, asking how a 6-foot, 250-pound man could change direction while lying on a wet truck hood. He also asked why the tall Leveille had to climb onto the truck to see Ellis in the first place.
"Why couldn't he get into the truck and close the door?" Fricano said to jurors. Because "he was angry with Greg because he lost a fight."