Deeds won dirt cheap at foreclosure auction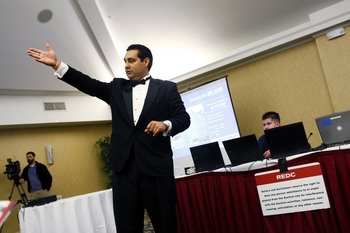 BEDFORD – Michael and Kerri Pacheco had exactly a split second to decide.
In a room stuffed with people and noise and pressure, they looked hard at one another.
"Should we do it? Should we do it?"
In a flash, Michael Pacheco's hand went up. He did it, and just under the wire.
A moment later, the Henniker couple officially became the owners of a three-bedroom condominium in Merrimack valued at $173,000. The Pachecos got a steal, paying $85,000 for it.
Similar rock-bottom home sales raced on at a frantic pace Saturday during a foreclosure auction in Bedford. Some 400 people attended the event, bidding against one another and – through simulcast technology – against hundreds of other bargain hunters in Boston.
The auction was put on by REDC Group, a real-estate company that travels around the country hosting home auctions for banks, which are growing heavy with inventory in the flagging economy. The company gets a cut of the proceeds.
More than 300 foreclosed properties in New Hampshire and Massachusetts were listed at the auction, but many had been removed prior to Saturday because other deals had been reached beforehand.Still, the event was stuffed with all kinds of property seekers: those looking for a deal on a primary home, such as the Pachecos, and others looking for an investment to unleash in brighter economic times.
A couple of huge deals garnered cheers and applause from the audience, as the auction turned into a team sport when a Manchester bidder waged war against someone in Boston.
One bidder up here bought a Salem house valued at $783,000 for $400,000. Another large property in Rye, valued at $700,000, sold to a New Hampshire bidder for $285,000.
Wayne Nolette, of Nashua, had his eye on more modest digs: a Shattuck Street duplex in the city, which he fancied using as a "backup" place in case things take a turn for the worse.
Nolette said he visited several to-be-auctioned properties, but liked the Shattuck Street house best for its location.
He knew it'd be a tough battle to become the winning bidder, though. The final open house was before the latest snowstorm, but he spotted footprints and tire tracks at the property even afterward.
"I know I'm not the only one interested," Nolette said.
His strategy: "Keep my mouth shut. I don't want to feed into the frenzy. I want to let the last person think he's going to get it, and then disappoint him."
Unfortunately for Nolette, he ended up going home empty-handed.
So did Russ and Alisa Johnson, of Nashua, even though they did some heavy homework ahead of time.
The Johnsons – he a computer consultant, she a real-estate agent – were interested in listings in Litchfield and Nashua.
They visited the sites to check out their condition, investigated property records for liens and prepared figures for two possible outcomes: to buy and hold the property, or fix it and flip it.
The Johnsons also mapped out an auction-day plan: only bid on their researched properties and stick to the budget.
They didn't plan everything, though.
"We're fighting over who's going to hold the card," Alisa Johnson said with a laugh.
At last, the Litchfield property came up on the block, but it quickly slipped away to a bidder with deeper pockets. By the day's end, the couple had been outbid twice.
"That's the way it goes," Russ Johnson said. "If you get wrapped up in it emotionally, it can be disappointing. But they bid higher than we did. . . . We don't want to buy more house than we can afford."
Bill Ferriter, of Nashua, hunkered down on the floor. He wasn't in a bidding mood, but in research mode.
Ferriter is taking an early retirement from his job at National Grid this June, and he hopes to get into the market with an income property or a flip property this summer.
"This helps me to see what kind of deals they're having," Ferriter said.
"I look for properties that are good structurally, maybe only needing paint or new carpet. Sheetrock, maybe. Stuff I can do myself."
Ferriter may have a chance to attend more foreclosure auctions by the time he's ready to buy this summer.
Such auctions are uncommon in New Hampshire, despite a tripling in annual foreclosures since 2006.
But Jose Robles, an REDC manager, said the company would likely be back two or three more times this year.