Day in the sun in honor of girl who died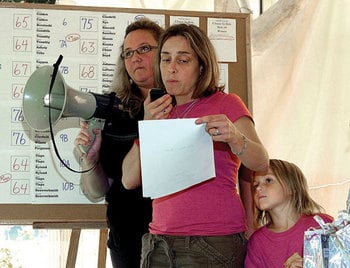 GOFFSTOWN – In a way, Holleigh Tlapa and the Rev. Tom Getchell-Lacey said the same thing.
"The sun came out for Jaiden," Tlapa said as she stood outside the tent where nearly 150 people were having dinner in honor of her daughter, Jaiden, who would have turned 9 on Monday.
"God obviously was smiling on us: It's a beautiful day," Getchell-Lacey said after finishing his round of golf in the first Jaiden's Angel Foundation golf tournament at the Stonebridge Country Club. All funds raised will go directly toward assisting local families facing tragic child accidents, catastrophic child illnesses and unexpected childhood death.
On Monday, it wasn't just God who was smiling – at one point or another, everyone smiled as they remembered the blonde-haired girl who died in a snow blower accident shortly before Christmas last year. But everyone who spoke about her also couldn't help crying, even if only a little.
"It's hard. We love her," said her grandfather, Dick Tlapa, as he put away his golf clubs, his eyes misty.The golf tournament was organized by Holleigh Tlapa, who managed to get 109 golfers to sign up.
"It normally takes a year to put a golf tournament together but Holleigh did it in two-and-a-half months," said Wendy Bauerschmidt, Jaiden's godmother. "And there are normally 30 golfers, but she got 109."
In a way, as much as this was a day to celebrate Jaiden's life, it was also one to marvel at Holleigh Tlapa.
"I think that Holleigh is a special person, and she has a special place in this world now with the loss of Jaiden," Bauerschmidt said.
That was echoed by Getchell-Lacey, to whose Milford Methodist Church Holleigh, Paul, Aspen and Gage Tlapa belong, as did Jaiden.
"I think that she has found a place to put her grief and her energy – in something positive," he said. "She certainly has my admiration and my respect. Paul and Holleigh have really been an inspiration to people."
And Fran Gillis came from Chatham, Mass., to say much the same thing.
"This is what Holleigh was meant to do," said the former Milford resident. She also had words of praise for her former town. "I lived in Milford for 12 years, and when I saw the way the community came together, it's heart-wrenching and heart-warming."
On the Jaiden's Angel Foundation Web site, there is mission statement, in part:
"The mission is to keep the presence of Jaiden the Angel alive down on earth. We will serve to provide services and support to local families with critically injured and terminally ill children. Our initial mission is to offer nontraditional outreach to these families; providing assistance with prayer blogs, memorial planning, funeral expenses and insurance co-payments."
It was the first part of that statement that seemed so important to Holleigh Tlapa as she spoke quietly about the day her daughter would have turned 9.
She spoke of a man she'd met while organizing the golf tournament, someone who'd lost a very young son and had fallen apart, even lost his family, but eventually came to believe that one day, he'd be reunited with his son.
"He was telling me that Jaiden had a mission on Earth," Tlapa said. "And if she hadn't died, we wouldn't be able to help all these people. So I believe that God is channeling through us to help these people because who would help them if we weren't?"
She paused for a moment, took a breath, then said, "She chose me to be her mother, and I wouldn't have given up being her mother for anything in the universe. But we can't dwell on the negative, you have to find some positive, and I believe that we'll be reunited.
"When we are, I know that she'll be proud of everything that we've done in her name."