Customers anticipating new legislation rush to buy firearms.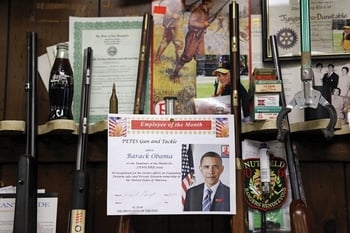 Pete's Gun and Tackle owner Mike Goyette put a poster up in January, naming Barack Obama "employee of the month" of his Hudson store.
It's still there.
Business has been booming at Pete's and other gun shops around the region, and although federal statistics show that sales have been soaring since 2006, Obama's election accelerated the increase.
"This is unprecedented," said Paul Gauffin, of Stateline Gun Shop in Mason. "It began really around the election and it's been continuing unabated ever since."
Gauffin estimated sales have doubled at his shop at 443 Fitchburg Road, and Goyette reckons sales have tripled at Pete's as people scramble to stock up on ammunition and buy weapons they fear might be outlawed or heavily taxed under a Democratic regime.
In Milford, longtime hunter and target shooting enthusiast Nicholas D'Augustine realized it was a good time to act on his longstanding idea of opening a gun store. The former furniture dealer opened Milford Firearms at 286C Elm St. last month, and sales have been strong, he said.
"We've been selling 20 to 30 guns a week out of the store," D'Augustine said. "Ammo has been flying off the shelves. People have the mentality, 'I want to get it before I can't do it.' "
D'Augustine said he began mustering the permits to open his shop immediately after Obama's election.
"I figured it was time that I should jump on the bandwagon and be able to make a little money here," he said.
While all gun-shop owners said politics and the fear of more restrictive laws are driving sales, Gauffin said politics isn't the only factor. Ongoing fears of terrorism and the economic meltdown also make people feel insecure, he said.
National Background Checks
"I think it's got to do with more than just the political climate, I think it's also the general uneasiness, the concern that people have about the future," Gauffin said. "This, combined with the potential for new legislation, is what's driving the current rush on guns and ammunition. . . . We can expect that to continue for some time."
Indeed, federal statistics show that the increase in gun sales began well before last November. The number of background checks performed through the FBI's National Instant Criminal Background Check System spiked after Sept. 11, 2001, and then held steady at between 8.4 million and 8.9 million through 2005.
Background checks jumped to more than 10 million in 2006, more than 11 million in 2007 and to 12.7 million last year. The numbers began climbing even faster in November and show no sign of slowing.
Using the same federal statistics, the Web site gunreports.com reported earlier last month that federal background checks are up 27 percent in the first quarter of this year compared with the same period last year.
Nashua Police saw a similar spike in pistol permits, Detective Sgt. James Maloney said. Police had been approving 40 to 50 permits for concealed carry of a firearm each month throughout 2008, but the number jumped to 62 in December, slipped back to 58 in January, then climbed to 63 in February and 72 last month, he said.
The uptick in firearms sales should be especially good for the economy, since some of the biggest names in the business – Smith & Wesson, Colt, Browning and Sturm, Ruger & Co. – are American companies, and they still make their products in the United States, including New Hampshire and most other New England states.
Unfortunately for dealers, Gauffin said, manufacturers are already cranking out all the guns they can.
"Like all American manufacturers, we have no excess capacity," he said.
Because supply is fairly fixed, strong demand isn't entirely good for business, storeowners said. There's only so much to go around, and for the last month or so, shops have been having trouble buying enough ammunition and some firearms to stock their shelves.
Before a fresh shipment Wednesday, Goyette was down to three pistols and a revolver, and he remained entirely out of several common types of ammunition, including .32 and .380 caliber. He hasn't had any .45 caliber rounds for nearly two months.
Goyette is all out of Glocks, one of the most popular pistols even though they sell for more than $500 each, and on Wednesday, he was selling ammunition out of boxes still stacked on the floor that he hadn't yet got around to unpacking.
"It's been this way since the day after the election. It's not stopped," Goyette said. "You name it on the gun industry side, it is hard to get right now."
Ducks quacked in the shop every few minutes – Goyette's ring tone – as customers called to find out whether a particular item was back in stock yet, and more often than not, Goyette told them they'd have to wait.
At Pete's and Stateline, owners said the biggest sellers have been high-capacity firearms such as assault rifles and semiautomatic pistols. Milford Firearms has been selling handfuls of "pocket pistols," smaller handguns made for concealed carrying, D'Augustine said.
Buyers have been a mix of existing gun owners and first-time purchases. D'Augustine said he recently sold a local 81-year-old man his first firearm, a Kel-Tec .32 Auto pistol, and signed him up for a National Rifle Association training course.
Ammunition has been particularly scarce, and storeowners said they've had to scramble to find supplies. D'Augustine said he has resorted to buying a case or two whenever and wherever he can because suppliers simply can't fill larger orders.
"Wal-Mart's been sending customers to me because they can't find ammo," D'Augustine said.