Crowd welcomes Marines back to state Friday night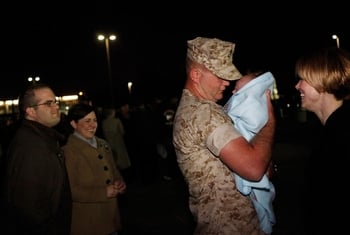 LONDONDERRY – When a coach bus full of Marines pulled into the Armed Forces Reserve Center in Londonderry on Friday night, it was greeted by flashing cruiser lights and sirens and cheers from hundreds of throats.
But Delrae Rippett was quiet.
When the doors opened and 53 Marines from Bravo Company, 1st Battalion, 25th Marine Regiment, based out of Londonderry were released, many of their friends and family members surged forward, searching through the crowd, calling out their names.
Rippett hung back at the rear of the crowd.
But when Lance Cpl. Dennis Kirkhart, a Nashua native, finally made his way to the dozen or so loved ones straight to his girlfriend and the mother of the son he hadn't yet met, and gave her a hug – a long one – and then held his son, Reece Michael, for the first time.
"It hasn't been easy," Rippett, a Manchester resident, said while waiting along with hundreds of other friends and family members of the Marine company that has been stationed at Camp Al Asad for seven months. "I'm very excited."
Rippett gave birth to Reece Jan. 31. Kirkhart watched from Iraq via Web cam.
"It's exciting," Kirkhart's mother, Charma Kirkhart, of Nashua, said while feeding Reece before the Marines arrived. "We missed him."
Family and friends started arriving at the reserve center around 6 p.m., almost three hours before the Marines arrived. Those hours were the longest for some.
"The last week flew by," Rippett said. "I think this wait is the longest part of it all."
She wasn't alone. Inside the reserve center families sat at tables and ate pizza during the wait. Many of them were rapidly tapping their toes. Several mentioned they were growing more anxious, and excited, as the wait grew.
Mandi Whitaker, a Lowell, Mass., resident, is nine months pregnant and was a little worried the excitement of finally seeing her boyfriend, Lance Cpl. Joshua Otero, 23, might induce labor. Friday morning she left the house without remembering to put on socks and shoes.
"I've been in a fluster all day," she said. "It's been really hard. It's been very up and down."
She saved a few birth-related duties for Otero since he missed most of the pregnancy. He'll learn with her the gender of the baby and gets to pick the name. Plus, Whitaker's midwife said he can actually deliver the baby, Whitaker said, so long as the delivery is running smoothly.
The reservist Marines were deployed to assist the 225th Battalion running security missions and working with Iraqi Police, according to the company's 1st Sgt. Marcos Enriquez. All 53 men who were deployed also returned Friday.
"To have everybody here will be great," he said. "It's still a dangerous place, and they've done their part to secure that."
In addition to anxiety, many parents, friends, girlfriends and relatives said they felt tremendous relief that the men returned safely.
"It's immeasurable relief," said Boston resident Paul Foley, whose brother, Lance Cpl. Tim Foley, returned Friday.
Tim Foley is a fifth generation Marine, according to his father, Michael Foley, a tradition that stretches back to World War II.
"It's overwhelming," said Atkinson resident Paige Wentworth, who was waiting for her fiance, Lance Cpl. Christopher Marquis. "It's been a long time. There's a lot of ups and downs. Having a wedding to plan was a huge help."
Wentworth and Marquis are planning a wedding this fall.
"My stomach's all butterflies," she said. "I'm sitting here and it's not real yet. It's like a dream."