Crowd goes wild in 1st Granite State visit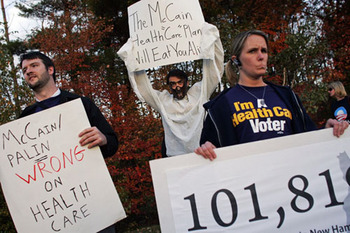 SALEM – Sometimes all the action is going on outside a political event. Sometimes there are picketers and protesters, supporters and anti-protesters waving signs, singing and chanting at the top of their lungs.
That wasn't the case outside Salem High School on Wednesday night when Alaska Gov. Sarah Palin spoke to thousands of supporters.
Aside from the supporters themselves waiting in a long and relatively quiet line and a gaggle of media, the only other people were about a half dozen volunteers with New Hampshire for Health, wearing Halloween costumes and protesting Sen. John McCain's health-care plan.
Merrimack residents Dee Avery and Mary Mayville said Palin was a good addition to the McCain campaign, at least in part because it represented another difference from Sen. Barack Obama.
"I think a lot of this election is supporting your candidate and nonsupport of the other candidate," Mayville said.
"I think John McCain is an honorable man and that he truly cares about the country," Avery said. "I don't know that I can say that about (Obama)."
Peter Galamaga, a Bedford resident, attended the "Victory Rally" with his three young sons.
"She represents the same conservative values I have, more than McCain, actually," he said. "She was a dream pick."
Sandy Gidley, a Salem resident still hasn't decided what she thinks of Palin. She attended Wednesday's rally to hear what Palin had to say.
"She seems pretty intelligent. I'm pretty excited it was a woman that got picked," she said.
Several people mentioned Palin's straightforward nature as one of the qualities that attracted them the most.
Kurt Kaiser, a Hampton independent who works as a physicist, said Palin strikes him as a different kind of candidate.
"She's a straight shooter. Most politicians always are trying to parse what they are saying. She doesn't do that as much. She's pretty candid," Kaiser said.
Once inside, things got a little rowdier where people were sitting or standing around a stage set up on the school's football field. Large video monitors, banners and an enormous American flag, flanked the stage.
In the minutes leading up to Palin's appearance, the crowd entertained itself chanting Palin's name and watching promotional videos on the big screens. One of the videos described Palin as "Mother, moose hunter, maverick. Mayor, governor, maverick."
"I thought it was awesome. She is such a breath of fresh air that we really need," Laconia Republican Bill Roy said following Palin's speech.
Not everyone was there to support Palin. The handful of protesters weren't allowed on the school property. Salem police Capt. Shawn Paterson said that was the campaign's decision because it had rented the entire property for the day.
"It was a little disappointing," said John Thyng, New Hampshire for Health Care's director. "We were disappointed that they wouldn't let us onto the public property."
According to volunteers for the group, the McCain health-care plan would put more than 100,000 New Hampshire at risk of losing their employer-based health-care benefits.
"We're just trying to point that out to people," Timothy McKernan, the groups regional volunteer organizer. "It's really terrifying to think about."
Staff Writer Kevin Landrigan contributed to this report. Joseph G. Cote can be reached at 594-6415 or jcote@nashuatelegraph.com.