Critter in pot stranger of storm stories?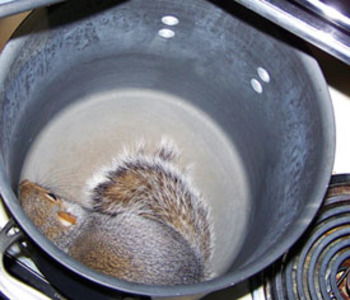 Animal control can lead to some odd situations, but some are odder than others.
The All Creatures Pest Control owner ran into one of these situations when responding to Eastlantic Advertising on Jan. 9.Mark Ravenelle received a call about a squirrel on the loose inside the building.
After days of employees hearing movement in the ceiling, the squirrel made its presence known by darting into the kitchen, where it was locked up until Ravenelle arrived with traps and a noose. Little did he know that the squirrel would try to escape by jumping on the stove and landing in a pot.
"We've caught a skunk under a kitchen island, a possum in a washing machine." When it comes to a squirrel in a pot, "No, never," Ravenelle said.
Whether or not the recent ice storm led to this situation is not known, but the storm didn't seem to affect calls in the area.
"I didn't see any remarkable increase in calls since the ice storm," said Bob Langis, animal control officer for the Nashua Police Department. "Usually (squirrels) find other homes with trees on the ground."
Winter is the slow season for the business.
All Creatures Pest Control receives about 100 calls a month starting in April and ending in mid-fall, making winter the slowest season of the year, with only 50 calls a month.
Langis received about 2,500 calls last year mostly about dogs. When it comes to wildlife, raccoons and skunks make summer his busiest time of the year. Squirrels are the least of his worries, with the exception of an incident in Nashua in December.
Langlis was called to Arel Manor in Nashua for a report of an assault on a squirrel after a resident allegedly pounded on a tree trunk with a baseball bat to frighten away the creature.
Luckily, Ravenelle's visit to Eastlantic was less dramatic.
After a baking sheet was placed over the pot to secure the squirrel, it was released unharmed. Safely handling these situations is important to Ravenelle and his company.
"We try not to capture anything if we can avoid it," he said. "We use a lot of one-way door systems for a variety of animals."
Being in business for 12 years there is always a first time for everything and a call about a squirrel running wild in an office during the quiet season is something that might not typically happen. Ravenelle enjoyed every second of it.
"What an adrenaline rush."