Crews restoring power find a second home at Hampshire Hills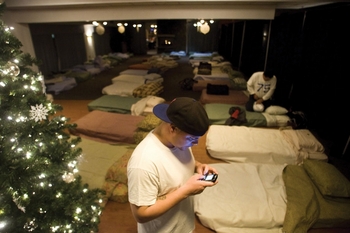 MILFORD – With no hotel beds available for some utility workers traveling from far away to fix New Hampshire's broken infrastructure this week, PSNH turned to Hampshire Hills Sports and Fitness Club, which was able to provide workers with food and shelter – and even a mint on their pillows at night.
Starting Sunday evening, Hampshire Hills became a second home for crews that needed a place to stay after long shifts repairing the damage from last week's ice storm.
"PSNH called me and said they had a big problem," said Hampshire Hills owner Rick Holder. "They had crews coming from Canada and down south and had no place to put them."
He said he got the call from PSNH officials around noon Sunday, and the convoys began rolling into his facility around 8 that night.
"They were like troops coming home from a war," said Holder.
Between the time the call came and the convoys rolled in, the Hampshire Hills staff got busy preparing the facility. They had to buy about 100 mattresses and matching linens, not an easy task when power was out all over the region, said Holder. They also had to cook meals for the crews.
Even though the preparations were difficult, Holder said his staff did an amazing job. Holder expects PSNH workers to be staying for about a week.
PSNH estimates 120 workers were staying at the club. Hampshire Hills has remained open to members throughout the week.
Jermaine Butler and Scott Klos, of Baltimore Gas & Electric Co., said they were happy with their accommodations.
"I thought we'd be in a gym on cots," said Butler, as he ate dinner in the club's restaurant Monday night.
Instead, Butler, Klos and others stayed in a large conference room complete with a roaring fireplace and a Christmas tree.
Instead of cots, Hampshire Hills provided air mattresses with fresh linens, and even left a York Peppermint Patty on workers' pillows.
Klos and Butler said they were especially impressed with the people in New Hampshire. Instead of complaining about the lack of power, New Hampshire residents have been gracious and have offered to help.
"The people here are very friendly," Klos said.
The work Butler and Klos have been doing entails tasks such as resetting poles and replacing transformers.
"In 32 years of work, I've never seen so many trees down," said Butler, who also responded to Hurricane Ike, which hit the Gulf Coast in September.
PSNH spokeswoman Allison McLean said the relationship between her company and Hampshire Hills was a "wonderful partnership."
She said PSNH would normally house its workers and contractors from other companies in hotels, but the magnitude of the storm made it impossible to get lodging for 500 crews.
Although putting up crews at Hampshire Hills had been a long-standing contingency plan, this is the first time it had actually been used, said McLean.
As for the cost, Holder said he was going to help PSNH first and then work out the details of compensation later.