Credit card fees add up for small businesses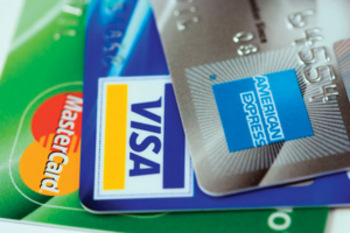 At a time when many small-business owners are struggling to make ends meet, rising credit and debt transaction fees are making the costs of doing business that much more difficult.
But banks and credit card companies are saying these fees are paying for valuable services.
The fees — which can be up to 3 percent of the total purchase price — eventually hit consumers' wallets as retailers look to cover the cost of extending the service of taking plastic payment.
The fees in question are called "merchant discount fees" and "interchange fees," and there is a difference between the two.
Interchange reimbursement fees are what a retailer's bank or merchant services provider pays credit card companies for processing card transactions. Merchant fees are those paid by the retailer to the bank or other institution they've contracted with to process credit and debit card transactions.
According to Gerald Little, president of the New Hampshire Bankers Association, other parties also can be involved in the complex cycle.
"There can also be an aggregator in the middle," he said, similar to the third-party payers that process medical claims. "A huge number of parties are involved that take part in every single electronic payment — millions happen every day."
Little said that retailers can negotiate their merchant fees.
"Like any other business, rates depend on the volume of business the merchant is bringing in. It's the economy of scale."
He said it's much like the terms retailers negotiate with their other vendors — those doing a larger volume of business get a better rate.
Theresa Anderson, owner with her husband Michael of Swan Chocolates, a gourmet confection shop in Merrimack and Nashua with 14 employees, said her stores "definitely have experienced increases" in their merchant fees, especially in the last two years.
To keep costs under control, the Andersons shopped around for more competitive terms.
"We brought our sales numbers to three companies and had them bid on our contract," she said. ""In this economy, everyone is being more careful with their spending. You have to get creative with your finances and shop around for better terms. You have to shop around just like you would for any other service, like construction. We would get a minimum of three bids for anything."
According to Little, that some of the benefits merchants receive in return for the fees are immediate payment ("only cash is faster," he said), security (less exposure to counterfeit paper cash or theft) and the elimination of collections headaches if a debit card transaction fails.
But merchant fees, and any increases associated with them, are passed on to the customer.
"It's the cost of doing business," Little reiterated.
How much is that cost?
In the United States, merchant fees average about 2 percent of the transaction value — $2 of every $100 spent goes to pay for these costs.
However, merchant fees vary immensely and depend on a number of factors, including a retailer's volume of business, which partly determines the fee and whether the transaction is a debit or credit card payment.
Transactions on a rewards-bearing card — such as one that offers airline miles — typically carry additional fees to process the rewards claim as well as the routine merchant fees.
Retailers accepting Internet purchases can pay a slightly higher fee for these transactions because the card was not physically seen and therefore lacks validation of the customer's signature.
Because of the enormous number and complexity of fees and increasing rates — particularly of American Express and Discover cards — many business owners have opted to not accept these cards. Others have decided not to accept any.
But for Anderson, going without credit and debit transactions "just wouldn't work for our business model."
"We would lose so much of our business. This is the way so many people track their spending and get their perks with their rewards cards. There's nothing worse than when a customer comes to the register with a $100 order and you have to say you don't take their type of card. We would risk alienating so many people, including corporate customers," said Anderson.
She added that credit cards have safety measures not only to protect merchants, but customers as well.
"When you as a retailer check that signature on the back of the card, that can be a real loyalty builder. People want to know you're looking out for them," said Anderson.
<p>
Cindy Kibbe can be reached at ckibbe@nhbr.com.