Creators of every sort display works at Greeley Park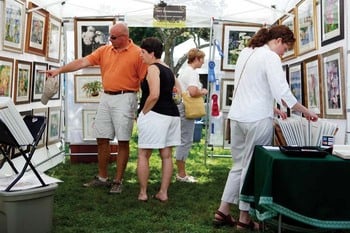 Unlike last year, when it rained, or the year before, when wind knocked down a few of the artists' tents, you couldn't have asked for better weather for the 56th annual Greeley Park Art Show this weekend.
"We have approximately 60 artists in the show this year," said Sandra J. Peters, director of this year's show and easily identifiable by her large pink, floppy hat.
"The adult competition was just completed, and we are figuring out the winners," she said, pointing to a table where award ribbons were being stuffed into long white envelopes by Lauren Alana, a volunteer and an artist who displayed her artisan jewelry featuring dichroic glass.
"Our judges look for qualities like originality, substance and that the piece is new and hasn't been shown anywhere in the last two years."
"This show," Peters continued, "allows
area artists and groups a chance to reminisce with each other and show the public their talents. We also use the show to raise our scholarship money through the use of a raffle of donated gifts and services from area businesses.
"This year, we gave Nathan Terrin of Nashua High School South a $1,000 scholarship to pursue art education."
Jason Gleneck, who was the president of the sponsoring Nashua Area Artists' Association last year and is the webmaster and show adviser this year, helped organize the show with Peters.
"It takes about six months of planning to pull this together," Gleneck said. "Yesterday, we were out here for three hours painting the grass so that everyone knew where to set up.
"It's an important event because it lets the artists get their names out there. Often, someone will contact an artist much later to let them know they are interested in their work."
Gleneck is responsible for creating the event posters seen around area businesses.
"Last year, we decided to put the Best in Show's winner on the posters and the brochure," he said. "We'll keep doing that with each year's Best in Show."
The art varied in type and form. For example, Katherine Rudolph had an exhibit of her jewelry and metalsmithing. She displayed her own designs of metalwork, including scored leaf earrings and triangular and square mirrored illusion rings.
"We always knew she would be an artist," said her mother, Mickey Rudolph, who was manning the booth. "Even in kindergarten, she always worked and did things with her hands. She loves to play with visual in her art.
"Much of it is very architectural," she said as she picked up an angled square bracelet that gleamed in the sun.
Son Pho displayed art from his Uncle Chien Nguyen, who lives in Vietnam. In their booth hung 11 award ribbons that had been presented from various regional art shows.
Nguyen mastered the art of traditional Vietnamese embroidery while working in the clothing embroidery industry for 40 years. The two relatives work together; Pho will send an idea or photo to his uncle, who will then hand draw the picture on fabric, match up the threads and do the artwork. Pho then frames the completed work here in the United States.
"The difference between a good embroiderer and a great one is the ability to match the colors of thread to the picture," Pho said as he showed a photo book of his uncle at work.
At another booth sat James Chase, who was surrounded by his multimedia sculptured pieces of art.
"I'm all about giving things new life and second chances," he said. "I didn't get my driver's license until I was 26, and so I walked everywhere. I started collecting used and discarded items that I use in my art."
Among them were a telephone-like case that included noise and a halo glowing light. Some of his work is a bit on the eerie side, involving people's distorted faces and large eyes reminiscent of Edward Gory or Tim Burton.
When asked if kids were drawn to his work, he replied, "Oh, children love it, actually. They always want to touch it and be interactive with it. I tell them if you want to touch, go ahead; just be respectful."
Marlene Sawaf exhibited her fun art consisting of bright colors and vivid flowers. She has a diverse style ranging from women's portraits to jewelry to chicken-shaped pincushions.
"It's my own style that I've invented," she said.
Sawaf's art is colorful and playful. She credits inspiration from Oriental carpets, stained glass and an understanding of interior design.
"I try to investigate new avenues all the time," she said. "I love to try new things."
Sue Wilkinson and her husband, Albert, a photographer who has been an award-winning exhibitor at the show in past years, were at the show looking for interesting art. Sue Wilkinson showed a pair of bright smiling metal sun earrings she had just purchased from an artist.
"I like her work, and I actually came to see her moon and stars collection, but then I saw the sun earrings," Sue Wilkinson said. "They're so happy, I had to get them.
"And that's what it all about: being fun and different."
The event continues from 10 a.m.-5 p.m. today. It will include a children's competition, puppet shows by Teresa Moler, raffle winners and the awarding of this year's NAAA scholarship.
For more information, visit www.naaasite.org.