Crash victim was 'caring, kind'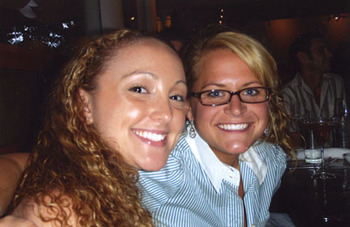 MILFORD – On Monday afternoon Giorgio's employees went to work expecting a typical workday.
Instead, at 6 p.m. owner George Sklavounos politely asked dinner guests to leave the Nashua Street restaurant. Then he and 14 of his staffmade their way to the Route 101 overpass with candles and flowers where they held hands and prayed for their co-worker Kira Guild, who died in a car crash that afternoon.
The 23-year-old Wilton woman was killed when the Jeep Liberty she was driving crossed into oncoming traffic and collided with an 2002 Isuzu Rodeo where Route 101 crosses over Route 101A near Lorden Plaza.
The driver of the Isuzu, James Krolikowski, 55, of Bedford was taken to St. Joseph Hospital where he was listed in fair condition Wednesday.
Guild had worked at Giorgio's for about a year and a half.
"Everyone is upset," said owner George Sklavounos on Tuesday night. "She was more than an employee and a co-worker. She was a really beautiful person. I haven't met too many people like her.
"She had a way of creating kindness among rivals. When a situation was tense, she had a way of diffusing it," he said. "She had kindness, empathy and compassion, and she was able to cope with everything that came to her. She was everything a good, noble person should be," he said.
Manager Jodye Gibbons knew Guild – who graduated from the University of New Hampshire-Manchester with highest honors in 2007 – all through school in Wilton and called her "an amazing person."
"She was like an angel to many people. If you needed cheering up, she was there – the type of person everyone needs in life – an absolutely honest and caring person. You didn't have to try to get along with her," said Gibbons.
Fellow waitress Amanda Nye said Guild never had anything negative to say. "She liked working and enjoyed the people she worked with. She was a very positive person with a lot of potential," said Nye.
Wednesday afternoon, Guild's family paid tribute to a young woman who "will forever be in our hearts."
In e-mail responses to a call from The Cabinet, her mother, Kathy, wrote, "Kira had the knack of making everyone feel like they were her favorite person – even me. I know my daughter loved me. She showed me that in countless ways."
Her sister Holly wrote, "Words cannot describe how special Kira was to me. She was my friend, sister and a wonderful aunt to my daughter."
Even her younger sisters – Elisia, 11, and Breanna, 8 – wanted to say things about her.
"My favorite memory of Kira was that on my birthday, Kira took me out for ice cream, by myself, after church," wrote Elisia.
And Breanna wrote, "Kira held me and snuggled me in the night when I had bad nightmares."
Her sister Rebekah sent a haiku: "Make a place for me, skipping down the streets of gold, one day you and me."
And her sister Mallory called her "generous and caring. I think of all that you did for those around you, especially me."
And, said sister Christa, "I could talk to her about anything that was going on in my life and she always had some type of advice."
Her roommate Sarah Maillet asked people to go to Kira's MySpace page and listen to a song Kira had posted there.
"It's Kira. It just goes to show you where her heart is and how beautiful she was."