Crash ties up traffic in Nashua; no word on occupants' injuries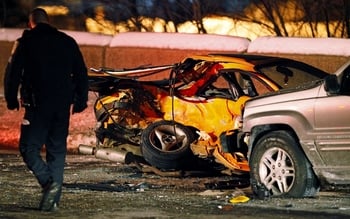 NASHUA – Traffic was blocked in both directions on Bridge Street after a two-car accident there Tuesday night.
The accident, which happened around 9:30 p.m. and involved a smaller yellow car and a Jeep with Massachusetts plates, occurred on the bridge joining Bridge and Canal streets.
Nashua police on the scene said no information was immediately available and that detectives had been notified. There was no word on injuries to any of the occupants, but witnesses said one person was taken away in an ambulance.