Court security officer shoots himself in foot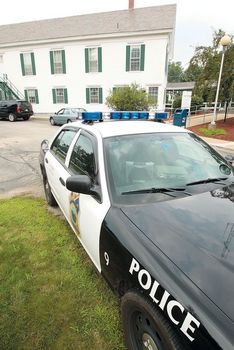 MERRIMACK – A Merrimack District Court security officer was shot in the foot when his holstered gun accidentally went off while on duty Thursday morning.
The male officer unintentionally discharged his Beretta .25 caliber automatic pistol, according to a police statement. He suffered a minor foot injury and was brought to St. Joseph Hospital in Nashua, the statement said.
Police are still investigating exactly how it happened, but confirmed that the officer was not drawing the weapon or engaging in enforcement activity.
Police did not identify the officer, who works for the state's administrative office of the courts, because they hadn't finished interviewing him, said Deputy Police Chief Mark Doyle.
Police and medical personnel responded to the courthouse at about 11:40 a.m., Doyle said. When he arrived, the man was bandaged and responsive as paramedics removed him quickly from the courthouse.
Town Hall was in lockdown mode for less than five minutes as officials determined what had happened, Town Manager Keith Hickey said.
Soon after, the police department's criminal investigators arrived to take photos and recover the weapon, holster and a single round from the floor. They sent items to the state's laboratory for analysis and to make sure the weapon was in proper working condition, Doyle said.
The department will continue investigating, Doyle said, because the incident involved a firearm discharged in a government building.
Police "have no reason to believe it was anything other than unintentional," he said, but, "in a government building when there's a firearm involved, people will want a lot of answers as to what happened and why."
Police notified the county attorney's office and the state attorney general, which is protocol, Doyle said.
The officer is not a member of sheriff's department, who are responsible for monitoring prisoners.
Security personnel generally check people's belongings, direct people through metal detectors, transfer court paperwork and provide security presence inside and outside the courtroom.
Security officers with the state are authorized to carry weapons with proper qualifications, though the weapons are personally owned, Doyle said.