Couple finding it difficult to get new business going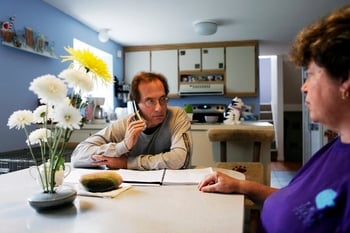 In their mid-50s, Rich and Vicki Green are facing a career problem more common to recent college graduates: They can't get started because they don't have any experience.
Rich, a laid-off software engineer, and Vicki, a part-time teacher, are hoping to build a nest egg for retirement by starting an in-home business. The problem is, neither is a seasoned entrepreneur, so banks aren't exactly jumping to give them a startup loan.
The Nashua couple said they have visited six banks so far – local, regional and national – but have barely made it past the front desk.
"With one exception, they weren't particularly interested in entertaining a conversation," Rich Green, 53, said.
Added Vicki, 57: "Most are saying they don't give loans to startups."
To the Greens, the experience suggests that it's not as easy to get a loan in New Hampshire as local and regional banks have suggested. Community banks, not wanting to be confused with national banks that were mixed up in the subprime crisis, have emphasized throughout this recession that they are still making loans.
"Banks are saying that New Hampshire has always had money to lend for the right people. They've always said that's the way it is. But I don't believe it," Rich Green said.
But two state experts counter that small-business lending is very much alive in New Hampshire, even for startups, and offer several explanations for why a bank would refuse to consider a loan.
"They can't just loan money to anyone. They have to have some kind of expectation that the loan can be paid back," said state Banking Commissioner Peter Hildreth, speaking generally and not about the Greens. "Each case is individual, and that's the beauty of the community banks."
The idea of entrepreneurship came to Rich Green in April while he was standing in line for the infamously mobbed WMUR-TV job fair. The fair drew thousands more than expected, clogging up Manchester roadways and forcing organizers to shut down the event early.
"It was such a depressing, demoralizing, frustrating experience," said Green, who eventually gave up his place in line and headed home. "I told Vicki, 'We're going to do something on our own.'"
The couple soon began working with a business coach, Suzanne Delaney of the Entrepreneur's Source in Nashua. They decided to buy into a franchise, rather than start an original business, figuring their chances of failure would be lower.
At first, the Greens seriously considered several pet-related businesses, including a mobile groomer and a waste removal service. The self-described pet lovers have two cats, two dogs, a tortoise and a hedgehog at home. But after closer inspection, the businesses either didn't seem profitable enough or involved too large an investment.
Now they've narrowed down the field to a few franchises that make better financial sense but don't excite them as much, including a dry cleaning delivery service and a medical staffing company.
The banks have made it clear, the Greens said, that there are three prerequisites right now for a business loan: a credit score of 740 or higher, two years of experience running a business and a detailed business plan. Banks are also eager to see enough personal collateral to carry the business for a few months and a loan guarantee from the Small Business Administration, they said.
Rich Green said the couple's credit scores are in the low 700s. He admits that they haven't presented a completed business plan to a bank yet, but said they're doubtful they will get a loan even when they do because of the other requirements.
According to Witmer Jones, director of the New Hampshire Small Business Administration, it's still possible in the current economy to get a business loan without any experience. But the borrower really has to make a strong case for how their previous job skills are transferable to entrepreneurship, he said.
Jones, who also spoke generally because he does not know the Greens, said potential business owners often fail to do their "homework" before shopping for loans.
"Banks in the Nashua area are making loans," Jones said. "Startups are being made but a lot of people approach it from the wrong way."
Potential borrowers need to go into the bank with a precise business plan that describes exactly how much money they need, what type of business they will run and where it will be located, Jones said. They also need to be willing to invest a "reasonable" amount of their own money, he said.
Right now, the Greens are in the final stages of selecting a franchise. They're preparing to do "site visits" for the finalists to get a closer look at how the businesses are run before picking one.
But still unconvinced that they'll be able to get a loan, they have devised a Plan B: cashing in their 401(k)s.
"At some point next month in our mid-50s, we will have no retirement account at all," Rich Green said. "It's a very scary thing."