Couple delivers baby on the side of road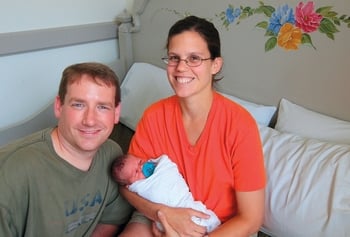 Kelly Pittman awoke in the early morning hours of the day she was scheduled to be induced into labor.
Amid the quiet darkness, she thought, today is a beautiful day.
Pittman, a mother of four, was having a little trouble with her fifth son's arrival schedule, though.
Her contractions had started, and she wasn't scheduled at the hospital for another three hours. She woke her husband and told him the baby was coming.
James Pittman rose like a Revolutionary Minuteman and was ready to go in a matter of moments.
Just as the Pittmans got in the car and backed down the driveway, Kelly's water broke.
"I just pretty much knew when we were leaving that we weren't going to make it to the hospital in time," Kelly Pittman said.
James started driving and called 911.
The operator told James Pittman he needed to pull his car over. He stopped at the corner of Patten and Joppa roads in Merrimack and waited for paramedics to arrive.
They didn't make it in time.
"I came around the car to help her out," James Pittman said. "And of course the door was locked. So I ran back around to the drivers side, unlocked the door and came back to her side and the baby was almost out."
From there, all James Pittman could do is pray everything would work out well.
Within minutes, the couple's fifth son Elijah was born right there on the side of the road.
"It is the kind of thing that if you had to think about it ahead of time, you would have not a clue what you are supposed to do," James Pittman said. "But once it all happens, you just have to do it. Obviously there was a lot of adrenaline going. I didn't have a lot of time to think or react."
Within a few minutes of Elijah being born, a police officer and paramedics arrived on the scene.
"We just praise God that he was OK and Kelly was OK," said Elaine Autote, Kelly's mother. "God was really looking down on him."
The Pittman family was thankful the baby came on the same day Kelly Pittman planned to be induced into labor. Because of that, they had a babysitter set up to watch their other four sons. Their parents, who have come with them to the hospital for every birth, were also ready to respond when they heard about the delivery of Elijah.
"He is perfect and no worse for the wear," said Kelly Pitman, of her new 7-pound, 6-ounce baby boy. "His brothers are all excited to see him."
And when Elijah finally does get to meet his four brothers, he already has a small leg up on each one of them.
"This one definitely takes the cake," said the proud father. "The other kids had some good stories, but not like this one."
James Pittman credits the experience they had with their other children with helping them to remain somewhat calm and collected.
"It really helps that we had four babies first," said James Pittman. "If it was my first, it would have had no idea what to do."
Kelly Pittman, on the other hand, credits her husband for being ready on the fly.
"It is not something that I planned to do," said Kelly Pittman. "But I think he did absolutely fantastic and rose to the challenge."
Despite Elijah coming into the world a little different then they planned, the Pittman's are enamored with their new baby boy.
"It is the kind of thing where next time, if there is a next time, we will plan ahead a little more," said James Pittman. "I am glad to have that experience though. I don't think I would want to have it happen again, but it is cool that it did."