Could a gas-tax hike be in New Hampshire's future?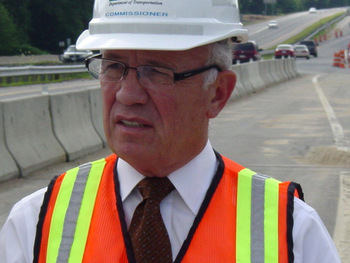 Some New Hampshire lawmakers are considering a gasoline-tax increase to address what could be a $1 billion shortfall in the state's 10-year highway plan.
The lawmakers include Rep. David Campbell, D-Nashua, who led a study of the state's highway fund. The Concord Monitor reported that Campbell said he will sponsor a bill to increase the tax. The size of the increase will remain up in the air until after the state finds out how much federal highway aid it will be receiving.
The bulk of the state's highway fund is raised through the state gas tax, which has stood at 18 cents since 1992. The national average is 28.6 cents per gallon, according to the American Petroleum Institute. New Hampshire's gas tax revenue is down because gas consumption has dropped nearly 4 percent in the last year.
Gov. John Lynch has opposed increasing the gasoline tax in the past. Spokesman Colin Manning said Lynch is discussing alternatives with the department.
"It's something he hasn't favored, and he's been in discussions with DOT about alternative strategies," Manning said.
The need for additional funding is nearing crisis proportions, Department of Transportation Commissioner George Campbell told lawmakers at a Nov. 24 hearing. The department is on track for a billion-dollar shortfall in the 10-year highway plan – a plan that has already been pared down to focus on maintaining existing infrastructure rather than building new roads.
Commissioner Campbell said the state's transportation system spends $100,000 more each day to run the agency than it takes in. He said the state would avoid a deficit in the state Highway Fund this year only because it has sufficient reserves to cover the expected deficit, and because the Legislature approved a two-year, $60 million bond in 2007 to cover expenses.
Also, the federal government is giving the state $11.5 million more a year to cover the state's cost to administer U.S. projects.
"Yet without significant action, fiscal year 2009 will see the end of surplus balances in our highway fund reserves," Campbell told legislative and Lynch administration budget experts during the work session.
Campbell said he hosted a recent town hall-style forum with employees to discuss ways to deal with the budget dilemma." Everything is on the table – closures, elimination of services, project delays, hiring freezes, travel bans and just about everything else to keep essential services flowing," he said.
Tax hike support
Other states have begun to suspend or delay construction projects to make ends meet, but Campbell said that would not work to resolve New Hampshire's prospective red ink.
"Our problems are not construction problems; they are a winter maintenance issue, really," he said.
The transportation chief noted seven cost drivers that together in the next two years will cost his agency $51 million more than they now do. Those range from materials like salt, steel and heating oil to salary and benefits.
Campbell said he remains hopeful that President-elect Barack Obama will sign a federal stimulus bill that could lead to as much as $100 million of highway and bridge construction work in the state.
Rep. Marjorie Smith, D-Durham, chairman of the House Finance Committee, asked Campbell how quickly his agency could get projects under way once Congress and Obama acted on such a program.
"We could be out in the field within 90 days. I would say this summer we could be doing a large number of them," Campbell said.
The Legislature could speed up and perhaps save more money if it allowed him to have more flexibility to award so-called "design build" projects, which combine the engineering and construction work into a single contract.
Current state law does not allow this fast-track procedure on contracts that spend more than $3 million.
"I don't see a need for a cap but if you decided to have one, I would prefer it be set at $50 million. This would allow us to do a lot more work in this manner," Campbell added.
The agency is examining a number of ways to raise additional revenue, including increasing the state's gasoline tax and selling the turnpike system to a private vendor, he said.
Meanwhile, Representative Campbell – no relation to the transportation commissioner – told the Monitor his tax-hike plan has backing from lawmakers in both parties.
"It's something that I'm hopeful the leadership of both parties, in both parties, can get behind," he said. "If they don't, I want them, whoever they are, to answer for the consequences if we don't do it. Show me where we're going to cut."
One supporter is Rep. Candace Bouchard, a Concord Democrat who chairs the Public Works and Highways Committee.
"I'm pretty hopeful that people will understand the need to maintain our transportation system," Bouchard told the Monitor. "I think we need to make our argument and show everyone that we've done our homework."
– NHBR STAFF